Governments issue traditional fiat money. In the digital economy, things are different: new coins are generated by computers by solving mathematical problems.
The process of creating new blocks on a blockchain is called mining. It allows crypto platforms to operate. The creation of a new block is rewarded with newly issued cryptocurrency units. In this article we will look at the different types and techniques of mining, understand what a crypto farm is, and how an ASIC works.
What is the essence of Mining?
Most often, cryptocurrency mining is a process in which powerful computers perform calculations in search of a hash with the necessary properties. Finding an acceptable option usually takes a long time, while verification is quite fast. Some people think that mining is the only way to create new cryptocurrencies. But this is not entirely true - there are alternative methods: ICO and forging (minting). An ICO is the process of selling tokens to investors obtained through an accelerated or one-time emission. And minting coins creates new shares in the blockchain based on proof of ownership. Some blockchains can combine their emissions in different ways, but mostly they use only one type. So, in the Bitcoin network there is only one way of emission: a miner who generates a new block receives a reward in the form of tokens. To receive a reward, you need to receive 120 confirmations. They are given by network members.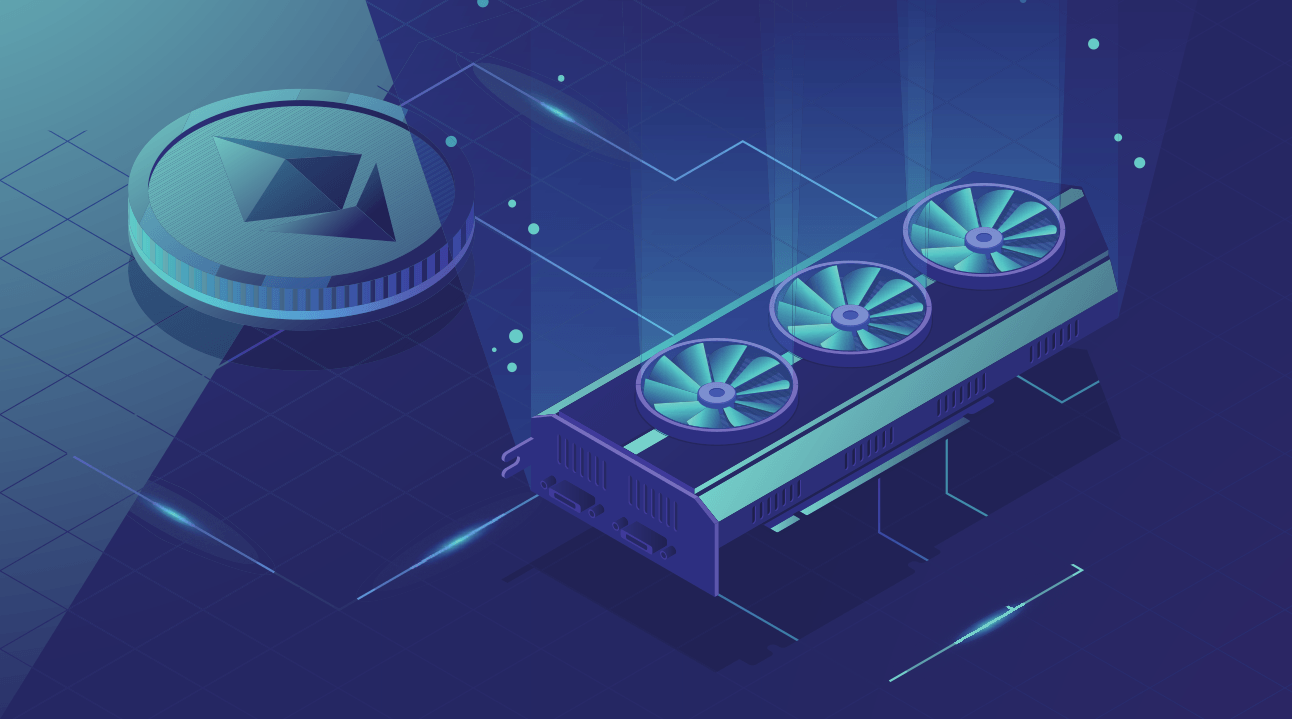 To make money mining Bitcoin it is better to unite in pools. The probability of receiving a reward for a solo miner is determined by the ratio of the computing power of his computer to that of the network. With a low ratio the chances of receiving an award are almost minimal. At the same time, the complexity of mining is constantly increasing - the conditions for a mined block are reviewed approximately once every two weeks. It used to be possible to extract Bitcoins on any computer using only a CPU in just a few months. But mining soon became so difficult that even powerful processors couldn't handle the load. Then powerful video cards began to be used and miners began to make "farms", which we will discuss below.
PROCESS
In English, the word "mining" means to extract minerals. In simple terms, mining is the process of generating new tokens. When computers solve complex mathematical problems newly mined blocks with information inside are created. These new blocks enter the blockchain (public "ledger"). Transactions are checked and added to the blocks. The first miner who solves the problem receives the reward. This technique was created to reward those who provide the computing power of their computers. The Bitcoin network used this method for the first time, and it is still the most widespread.
EVOLUTION
There are several things to keep in mind when talking about mining. The first and most important one we have already touched on above: the complexity is constantly growing. Let's talk about this in more detail now.
As mining became more complex, farms became less profitable. This happened for several reasons:
according to the emission protocols in the Bitcoin network , when determining the reward for a mined block, preference is given to more powerful computers - network participants
After 260,000 units (this occurs approximately every 4 years), the size of the award for the block decreases by half.
So, the first miners received 50 BTC for one mined block. From 2013 to mid-2016 - 25 BTC each. At the moment the reward is only 12.5 BTC and the reward will drop to 6.25 BTC in 2020. This trend reduces the profitability of mining. The problem of reducing profitability is partially solved by pools - combining computers into a single network increases the efficiency of mining cryptocurrencies. Pool members share the profit among themselves according to the power of their computers.
In the context of mining, there is the concept of the "socket rule" - this means that the profitability must exceed the electricity bill .
CURRENT MINING OPTIONS IN 2018
It is almost impossible to engage in solo mining in 2018 (this is the extraction of cryptocurrency without the help of other miners, using only your own capacities): this method of earning cryptocurrency has long outlived its usefulness. Mining pools are more relevant today (they have a lot of users and equipment and distribute the extracted cryptocurrency according to the power of the equipment), as well as cloud-mining (mining that takes place on remote equipment).
PROFITABILITY
This article was written at the end of October 2018. At the moment, the BTC rate fluctuates between $6,000 and $7,000. BTC has dropped by 15% since September. Ethereum has done even worse: it fell by almost 50%. To calculate the profitability in 2018, we will open the official website of the ASIC manufacturer - https://www.bitmain.com/. In order to make our calculations, we took prices from this site + $100 for delivery, and $95 for a power supply. You can calculate the profitability on Whattomine (this is a mining calculator program).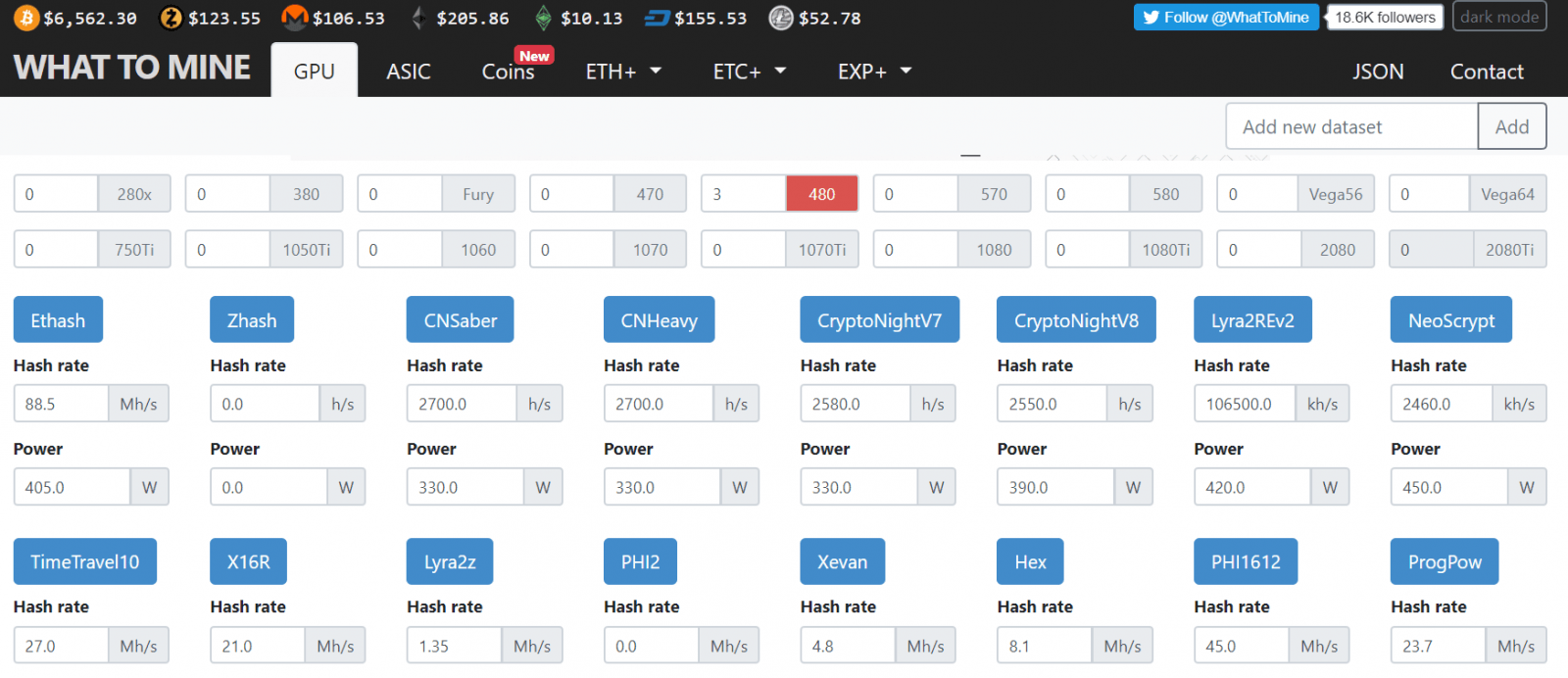 At the time you are reading this article the numbers may have changed. We analyzed 8 miners, all of them are in the table below. The yield will be calculated in months based on the price of electricity. The base currency is the US dollar.
0 rub / kW h

MINER

Income

Cost + $100 shipping + power supply

Profit

S9j 14TH / 1370W

98

511

5.21

S9 Hydro 18 TH / 1728W

125

1010

8.08

L3 + 504 MH / 880W

51

366

7.18

L3 ++ 580 MH / 960W

60

385

6.42

D3 17 GH / 100W

72

328

4.56

Z9 mini 10.0 Ksol / 280W

105

940

8.95

DR3 7.8 TH / 1600W

240

870

3.63

X3 220 kH / 535W

180

1310

7.28
In the top table, the cost of electricity was not taken into account. Now let's calculate the profitability at the rate of 1 ruble/ kW h.
1 rub / kW h

MINER

Income

Cost + $100 shipping + power supply

Profit

S9j 14TH / 1370W

83

511

6.16


S9 Hydro 18 TH / 1728W

106

1010

9.53

L3 + 504 MH / 880W

42

366

8.71

L3 ++ 580 MH / 960W

48

385

8.02

D3 17 GH / 100W

63

328

5.21

Z9 mini 10.0 Ksol / 280W

102

940

9.22

DR3 7.8 TH / 1600W

210

870

3.14

X3 220 kH / 535W

180

1310

7.28
Now let's calculate how much mining will pay off at a rate of 3 rubles/ kW h:
3 rub / kW h

MINER

Income

Cost + $100 shipping + power supply

Profit

S9j 14TH / 1370W

53


511

9.64

S9 Hydro 18 TH / 1728W

69

1010

14.64

L3 + 504 MH / 880W

22

366

16.84

L3 ++ 580 MH / 960W

30

385

12.83

D3 17 GH / 100W

36

328

9.11

Z9 mini 10.0 Ksol / 280W

90

940

10.44

DR3 7.8 TH / 1600W

180

870

4.83

X3 220 kH / 535W

165

1310

7.94
Calculation of 5 rubles/ kW h (standard price of electricity in Moscow):
5 rub / kW h

MINER

Income

Cost + $100 shipping + power supply

Profit

S9j 14TH / 1370W

21

511

24.33

S9 Hydro 18 TH / 1728W

thirty

1010

33.67

L3 + 504 MH / 880W

3

366

122

L3 ++ 580 MH / 960W

12

385

32.08

D3 17 GH / 100W

18

328

18.22

Z9 mini 10.0 Ksol / 280W

90

940

10.44

DR3 7.8 TH / 1600W

144

870

6.04

X3 220 kH / 535W

150

1310

8.73
As you can see, income is completely dependent on electricity rates. Unfortunately, in some countries there is no way to earn crypto using farms. Residents of these countries need to rely on cloud mining. We will discuss this in more detail below.
Let's now consider mining on video cards, or as the people say, on a farm.
EQUIPMENT
Now that we have figured out what mining is, let's talk about hardware. As we already wrote above, initially it was possible to mine cryptocurrency on a conventional processor. But the complexity of mining has grown. The investment now required to start is comparable to investing in a medium-sized business.
Mining devices are divided into two large groups: ASICs (these are special integrated circuits that cost up to 10 thousand dollars) and video cards (graphics processing unit, GPU).
The choice of equipment depends on the coin you plan to mine. In this article we will focus on mining Bitcoin and Ethereum. Today, ASIC miners (ASICs) are most often used to mine this digital gold. They look like this: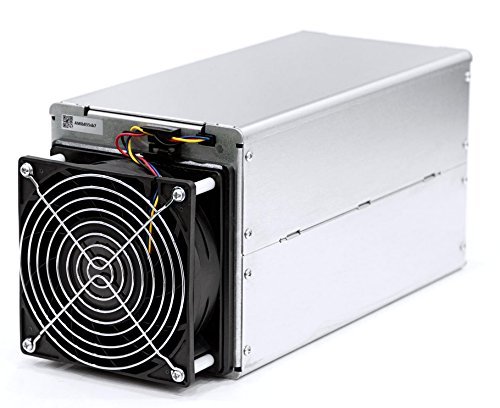 This is currently the most efficient equipment; everything else is unprofitable.
The following ASIC models are suitable for Bitcoin mining:
Antminer S7, S9, D3.
VIDEO CARDS
In 2018, GPU mining was still profitable. However, the amount of income directly depends on the capacity of the equipment. Below we will look at some important characteristics of video cards.
KEY CHARACTERISTICS WHEN SELECTING A VIDEO CARD
Video memory. This is not a key factor, but it is better to have more memory. The best option: 4-6 GB.
Memory speed. In this regard, DDR5 cards are best suited - an excellent option for balancing power consumption and processing power.
Bus width. Only cards with a 256-bit bus are suitable for mining.128-bit cards have been left behind in the market a long time ago.
Cooling. The power of a video card is highly dependent on this factor. We recommend using coolers from Radeon. They do their job well and wear out more slowly.
The ability to overclock the video card. This allows you to increase the initial card capacity by 20-40%.
Below we will discuss AMD and NVIDIA video cards.
AMD Graphics Cards Specifications
| | | | | | | | | |
| --- | --- | --- | --- | --- | --- | --- | --- | --- |
| GPU | Memory size | Memory type | Processing units | GPU frequency | Memory frequency | TP | TDP | Supply |
| Radeon RX 560 | 2-4 GB (128 bit) | GDDR5 | 1024 | 1275 Mhz | 1750 Mhz | 14 nm | 80W | 1x6Pin |
| Radeon RX 570 | 4-8 GB (256 bit) | GDDR5 | 2048 | 926 Mhz | 1650 Mhz | 14 nm | 120W | 1x6Pin |
| Radeon RX 580 | 4-8 GB (256 bit) | GDDR5 | 2304 | 1120 Mhz | 2000 Mhz | 14 nm | 150W | 1x6Pin |
| Radeon RX Vega 56 | 8 GB (2048 bit) | HBM2 | 3584 | 1471 Mhz | 1600 Mhz | 14 nm | 210W | 2x8Pin |
| Radeon RX Vega 64 | 8 GB (2048 bit) | HBM2 | 4096 | 1546 Mhz | 1890 Mhz | 14 nm | 295W | 2x8Pin |
NVIDIA Cards Specifications
| | | | | | | | | |
| --- | --- | --- | --- | --- | --- | --- | --- | --- |
| GPU | Memory size | Memory type | Processing units | GPU frequency | Memory frequency | TP | TDP | Supply |
| GeForce GTX1050Ti | 4 GB (128 bit) | GDDR5 | 768 | 1392 Mhz | 1750 Mhz | 14 nm | 75W | 1x6Pin |
| GeForce GTX1060 | 3-6 GB (192 bit) | GDDR5 | 1280 | 1708 Mhz | 2000 Mhz | 16 nm | 120W | 1x6Pin |
| GeForce GTX1070 | 8 GB (2048 bit) | GDDR5 | 1920 | 1683 Mhz | 2000 Mhz | 16 nm | 150W | 1x8Pin |
| GeForce GTX1070Ti | 8 GB (2048 bit) | GDDR5 | 2432 | 1683 Mhz | 2000 Mhz | 16 nm | 180W | 1x8Pin |
| GeForce GTX1080 | 8 GB (2048 bit) | GDDR5x | 2560 | 1733 Mhz | 1375 Mhz | 16 nm | 180W | 2x8Pin |
| GeForce GTX1080Ti | 11 GB (352 bit) | GDDR5x | 3584 | 1582 Mhz | 1375 Mhz | 16 nm | 250W | 2x8Pin |
| P106 (GTX1060) | 3-6 GB (192 bit) | GDDR5 | 1280 | 1708 Mhz | 2000 Mhz | 16 nm | 120W | 1x6Pin |
| P104 (GTX1070) | 4 GB (256 bit) | GDDR5x | 1920 | 1733 Mhz | 1250 Mhz | 16 nm | 180W | 1x8Pin |
| P102 (GTX1080T) | 5 GB (352 bit) | GDDR5x | 3200 | 1582 Mhz | 1375 Mhz | 16 nm | 250W | 2x8Pin |
PROS AND CONS OF NVIDIA AND AMD
NVIDIA cards are better at cooling and they're easy to set up, but they consume more power. Another obvious plus - after mining, they are easy to sell because they are popular with gamers. AMD is more difficult to customize, but they have the ability to fine-tune the voltage in the firmware, which allows you to save on energy consumption. They are not so popular with gamers, so they don't sell as well.
Before choosing a video card you need to decide which cryptocurrency you are interested in. GTX video cards are ideal for mining cryptocurrencies using the Equihash algorithm (Zcash or Bitcoin Private).
HOW TO ASSEMBLE A FARM WITH VIDEOCARDS
First, consider what a farm is. In fact, it is a simple computer that video cards are connected to. With the help of a special program, the farm uses its computing power for the blockchain of the mined cryptocurrency. In principle it can be assembled at home. Below we will look at the basic building blocks for farms.
What does a farm consist of?
SSD drive. The memory doesn't really matter, 250 GB will do. Some operating systems allow you to mine even with flash cards, however it will not last long.
CPU. The processing power of the processor is also not so important. Any inexpensive option will do. The main thing is that the processor is compatible with Windows 10 and the miner program. The Celeron G1840 BOX will do.
GPU graphics cards. We have already considered their characteristics above.
Motherboard. The best option is GIGABYTE H110-D3A Bitcoin Edition and BIOSTAR TB85. They cost around $100.
It is better to buy a power supply with a reserve of 20-30% of the maximum power consumption of the entire system.
Risers. This is a special element that connects video cards and a motherboard. You need to buy risers not lower than USB 3.0 and the wire should not be shorter than 60 cm. When calculating electricity, you need to take into account that the risers consume about 80 watts.
RAM. Just like the processor, this does not play a key role. However, some programs such as NiceHash use this component. Therefore, before choosing RAM you need to know which program you will use for mining cryptocurrencies. In terms of memory, 8 GB is recommended.
USB WatchDog. It protects your setup in the event of a power outage.
Cooler. An inexpensive option is DeepCool CK-11508. It costs a few dollars. Remember: the cooler must be equal to the amount of heat of the processor.
Frame. The whole farm rests on it. Frames are usually made of wood.
HOW MUCH WILL A FARM COST ON 4 VIDEOCARDS 1060
In order to calculate this we took a farm assembled from two types of cards: 1060 3GB (2) and AMD RX 470 4GB (2). Such a farm will pay off faster. Approximate calculations are in the table:
Farm component

Model

Quantity, pcs

Cost, USD

Motherboard

MSI 970A-G43

1

71

CPU

AMD FX-4300 Vishera

1

58

Cooler

DeepCool CK-11508

1

4

RAM

Kingston HyperX FURY, 4GB

1

40

HDD

Western Digital WD, 80GB

1

45

Video cards

NVIDIA GTX 1060 3GB

2

532

Video cards

AMD RX 470 4GB

2

582

Risers

PCI-E 1x to 16x USB 3.0, Ver 006

4

20

Power Supply

Chieftec APS-750CB 750W

1

106

Frame + power button

-

1

17

TOTAL

1475
Remember, the more video cards installed in the farm, the faster it will pay off. Current productivity allows the farm to pay off in 8-9 months.
PROGRAMS
Let's take a look at the best mining programs. Since many antivirus programs protect computers from such programs, we recommend running them on special computers.
Ethereum remains a popular cryptocurrency for mining. The most profitable program is Claymore's Dual Ethereum Miner. It is quite simple to operate and gives a good hash rate. The program can simultaneously mine 2 cryptos of your choice. The first must be Ethereum, but the second can be chosen from Siacoin, Lbry, Pascal, or Decred. They will be mined at almost the same speed as ETH. There are versions of the program for Windows and Linux.
Conveniently, Dual Ethereum Miner helps you use different types of video cards in the same farm and gives statistics on their operation. This helps identify problems and effectively set the parameters. The program has a commission: 1% for mining one coin, 2% for 2 coins. The Decred coin can still be mined without commission.
CLOUD MINING
Cloud Mining produces cryptocurrency using a single remote information processing center and joint computing power. This option is great for people in countries with expensive electricity where farms are not viable.
You can use different types of hosting for cloud mining. The first (and most popular) option is to rent equipment from a supplier. In this case, the owner is also involved in the maintenance of the equipment. The second option is to rent a virtual private server where the software is installed.
ADVANTAGES
There is no fan noise in your living space. This sometimes occurs due to overheating of the equipment.
Reduced energy consumption.
The owner does not need to deal with the management, configuration, and repair of equipment.
Simplicity - no special knowledge is required for this type of mining.
LIMITATIONS
Equipment rental is often very expensive and the amount of mined virtual coins does not justify the money spent.
Inability to control the work of providers. The latter choose their own servers.
High risk of fraud. Cloud mining companies are often shady and can easily shirk their responsibility.
WHO IS A GOOD FIT FOR CLOUD MINING
A user that does not have the time and desire to build and configure a farm.
Electricity rates are too high in your country.
A user that has a sufficient amount of free money that he can risk.
A user who has studied the system well, calculated all possible risks, and realized that the venture would be profitable.
There is a company available with a proven reputation and affordable prices.
RELIABLE SERVICES FOR CLOUD MINING
Hashflare is the most popular and reliable service. Payments to clients are made in BTC. 10 GH/ s per year will cost $1.5.
Agio Crypto is a fairly new service that has been on the market since the end of 2017. Its advantage is their Mining Profitability Booster technology which notifies the client when it is more profitable to sell one cryptocurrency over another. It is profitable to mine Ethereum on it. The minimum contract price is $15 per 1 MH/ s.
Genesis Mining is a popular Bitcoin mining provider. There is also a Zcash mining facility. Renting 30 MH/ s costs $869 for 2 years. The site has an excellent reputation. It is included in all the top lists.
Hashing 24 was one of the first in the cloud mining market and has been mining BTC since 2012. ASIC farms are located in Iceland and Georgia. 100 GH/ s for half a year costs $34.
BROWSER MINING
In 2018, making money on browser mining is possible. It is performed with the help of an integrated programs browser. They use the free power of a computer. Before analyzing these programs, let's focus on the main criteria for choosing a program. The following is important: reputation, how long the company has been working in the market, the minimum amount of payments, the availability of an affiliate program, and the format of payments.
WEBMINING.CO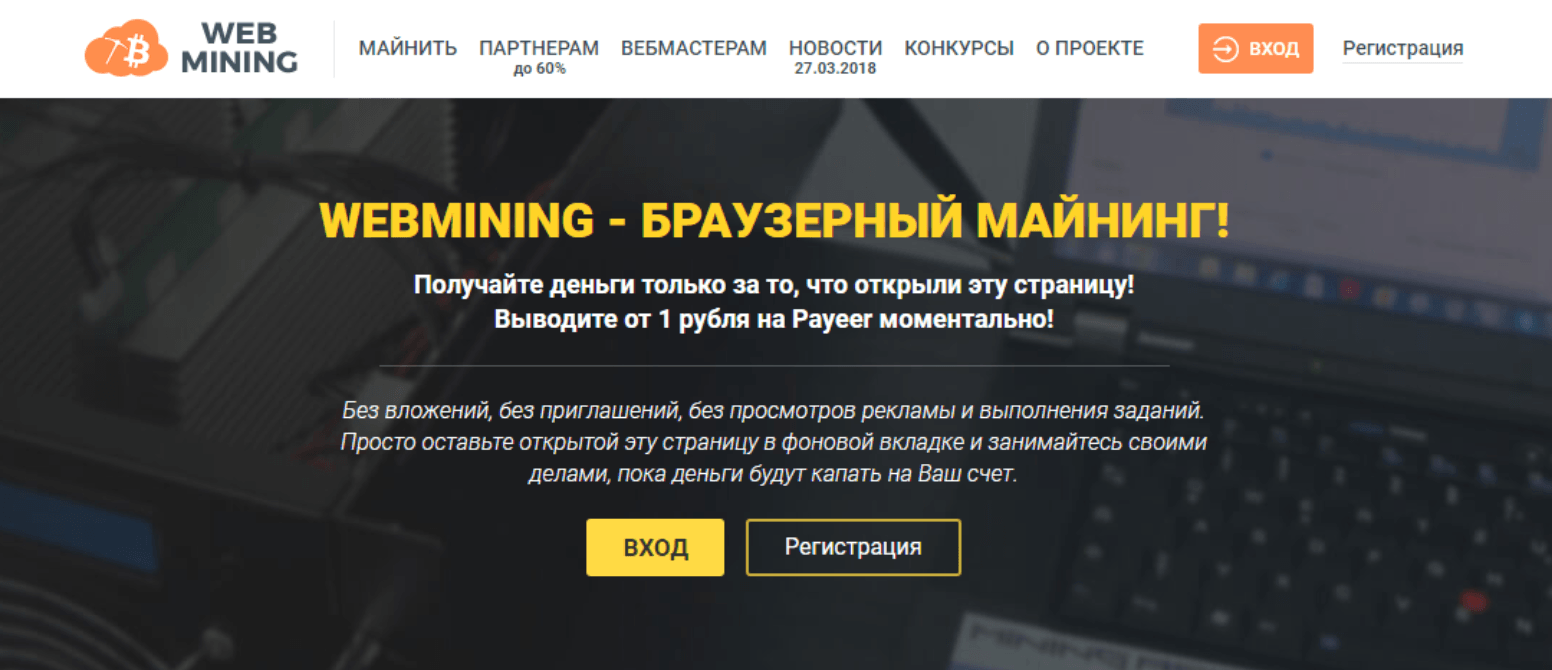 This program has been on the market since September of 2017 and the minimum payment is 0.05 rubles. You can earn up to 10% through the affiliate program. At WebMining.co the mining process starts immediately after registering on the site. It is adjusted with a special slider. The program has a 5-level affiliate program.
GETCRYPTOTAB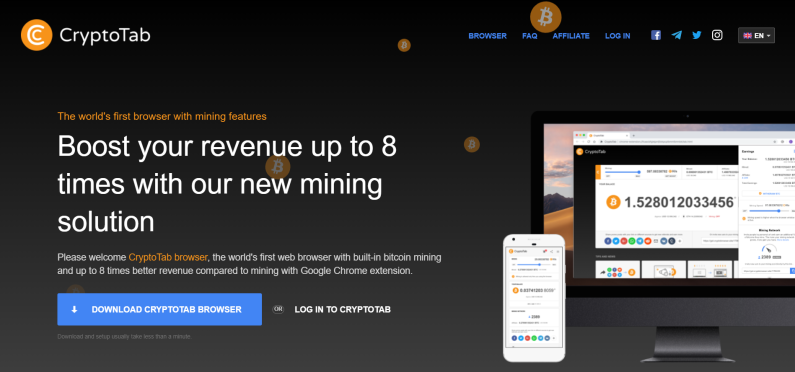 This program has been on the market since February of 2017 and has an average reputation. The minimum payout is 0.0004 BTC. With the help of an affiliate program you can earn up to 15%. The base cryptocurrency for the service is BTC. GetCryptoTab mines Monero - you can even use a processor to generate it. Productivity and, accordingly, earnings from GetCryptoTab are relatively low.
JSECOIN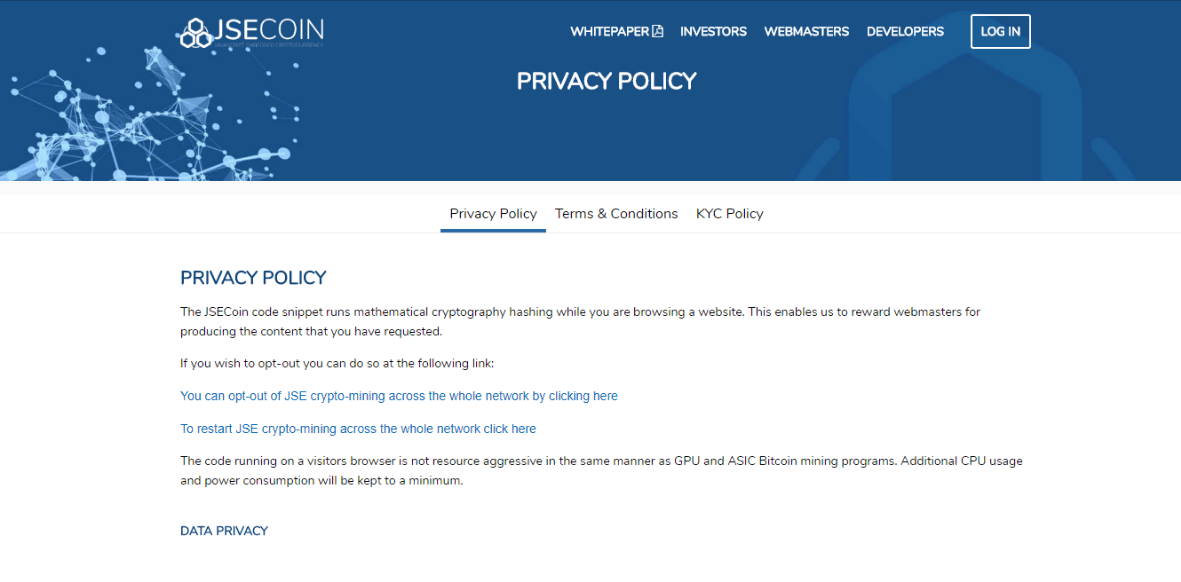 They have been on the market since mid-2017. It has a very good reputation and allows you to withdraw any amount. It is a survivor in its segment. In early 2018, the startup held an ICO to raise additional funding. The site has several sections: in the Publishers section you can add your site or blog to the database and generate a script for mining cryptocurrency on visitors' computers. In the Mining section, mining takes place at the users' own facilities. In the Referral section you can work with partners. You can connect multiple devices to your account to increase profitability.
IS IT WORTH IT?
Of course, mining is no longer as profitable as it was a few years ago. But this does not mean that you cannot make money doing it. It still remains a safer way of earning money when compared to trading.
Share this with your friends!