Over the past few weeks, Libra has probably become the most discussed topic in all media outlets. There is a lot of speculation around the topic: someone views initiative as a threat, while others believe that it is a long-awaited breakthrough.
There is a lot of speculation around the topic: someone views Facebook's initiative as a threat to the global financial system, while others believe that it is a long-awaited breakthrough for the entire crypto industry. Libra has caused a lot of controversy. The only thing that the participants in the discussions agree on is that they are not indifferent to the project.
For example, the Bank for International Settlements (BIS) claims that cryptocurrencies offered by the tech giants can disrupt global financial stability. It holds that that Facebook's vast user base gives Libra a great potential but also poses a threat to the traditional institutions.
The economist and Nobel laureate Joseph Stieglitz even maintains that Libra's only function is to launder criminal proceeds. He notes that Libra can only have two economic aims - collecting user data and aiding criminal activity.
Stieglitz is convinced that Facebook has, within just a few years, bread the level of distrust that the banking sector has been earning for quite a few years. Time and again, Facebook leaders, faced with the choice between gaining money and delivering on their promises, opted for the former. And nothing can be more money-wise than creating a new currency. Only a fool will trust Facebook with his money, according to Stieglitz.
As is often the case in the crypto world, some of the articles and statements are questionable, to say the least, and Libra is no exception. This article discusses in detail what the long-awaited Facebook digital currency is about.
What is Libra after all?
This simple question has prompted numerous discussions in the community. Some call it "a revolutionary cryptocurrency"; others view it as a sham. According to the Whitepaper, Libra is a global blockchain-based currency with its value pegged to the basket of real world currencies (e.g., USD, EUR and JPY). Libra's value equals the weighted average rate of these currencies.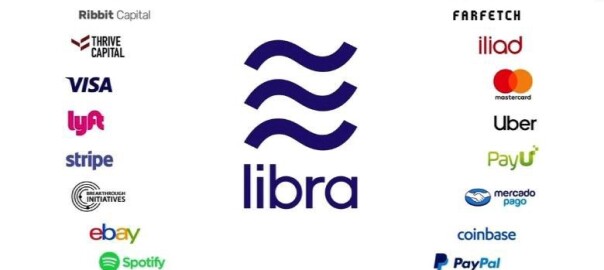 It is administered by the Libra Association – a consortium of 28 partner organisations including Visa, MasterCard, Lyft and PayPal where the members have voting rights. At least a three-thirds majority is required for structural changes adoption.
Let's try to find an appropriate definition for Libra.
Is LIBRA A CRYPTOCURRENCY?
It would be stretching a point to call Libra a cryptocurrency because the main principle of any cryptocurrency is decentralisation. And Libra is centralised and controlled by Facebook and the consortium of other technology heavyweights: Uber, eBay, MasterCard, Visa, Spotify and Vodafone.
The Whitepaper says that Libra Blockchain is a network with a unified data structure. However, classic blockchain is implemented in cryptocurrencies as a series of blocks containing transaction history.
It is precisely decentralisation that ensures cryptocurrencies' security. When an unknown number of servers are running, hackers cannot attack and affect the service.
Is it an investment asset?
Some view Libra as an investment asset like the ones in ETFs or unit trusts. It is true that financial assets, including fiat currencies and government bonds, will underpin Libra. However, unlike ETFs and unit trusts, Libra does not have an interest in these securities. Moreover, Libra's holders will not receive any dividends.
Libra will have a fixed value with all profits retained by the Consortium. However, the discussions between the supporters of the former and the latter versions continue.
What is it then?
Libra is a revolutionary form of fiat currency. For the first time in history, we are dealing with a currency that is not supported and financed by governments, but by large multi-billion -dollar companies. This is what makes Libra a revolutionary story, not a technology. Moreover, it is unique that, unlike the USD, Euro, GBR or JPY, Libra is a group of the world's largest companies. And the world has never seen such form of money.
How will the Libra issue go?
Only authorised resellers can issue and destroy Libra. Then the reserve will be invested in low-yield government bonds to preserve value. That's why Libra is considered to be a stablecoin.
Stablecoin is the general name for cryptocurrencies pegged to conventional ones or physical commodities whose exchange rates fluctuate less than those of conventional cryptocurrencies.
When will Libra be launched?
According to the official website, Libra will be available to users in the first half of 2020 with the mainnet to be launched at the same time.
How to use Libra?
Users will be able to effect Libra transactions via WhatsApp and Facebook Messenger. The Calibra wallet is likely to be integrated with the messengers.
Specifications
Libra is expected to operate at a 10-seconds-per-transaction speed, processing up to 1,000 transactions per second against Visa's average of 1,700 ones.
Libra will work in the "Move" language designed to build a scalable, secure and flexible platform. The network uses the Account/Balance model suitable for smart contracts writing.
A smart contract is a computer algorithm designed to help conclude and maintain self-executing contracts implemented in the blockchain environment.
What problems will Libra solve?
Libra will help eliminate the shortcomings in money transfers, according to the official video from the project's website. Today's financial system is unfair to the poor as people spend a significant part of their income on bank fee payments.
Moreover, Libra's creators also intend to reach users who have no access to banking and financial services. And the remittance industry estimated at $613bn in 2017 affords room for growth and innovation.
What is the target audience?
Libra's target audience is about 2 billion unbanked community members. In addition, Facebook expects to attract 2.7 billion people using the company products.
What about user data?
Many people are concerned that after the Libra launch, Facebook will deal with user data more aggressively. And they certainly have a reason to think this way. The point is that the Calibra wallet involves mandatory authorisation which runs absolutely counter to the cryptocurrency philosophy. So, apart from your interests, friends, place of residence and other data, Facebook will know the amounts you spend and what you buy…
Who are the competitors?
Libra targets two major sectors at the same time - the cryptocurrency market and the money transfer industry. The obvious competitors in the money transfer industry are MoneyGram and Western Union while Bitcoin is the obvious one in the cryptocurrency world. Satoshi has conceived Bitcoin in such a way that neither monetary policy nor the underlying mathematical formula can influence its price or supply volume.
However, it is impossible to regard BTC as an alternative to fiat money due to its high volatility, exposure to price manipulation and poor scalability.
Ripple is a closer competitor, as it offers money transfers as well cross-border transactions where it a strong rival to SWIFT.
Ripple is a cryptocurrency platform for payment systems, intended for non-refundable currency exchange transactions
How will the Libra launch eventually affect the crypto market?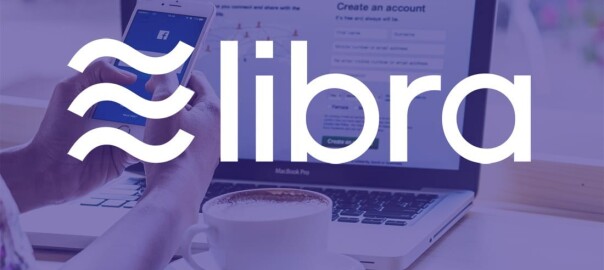 The launch of own e-currency by such giants, primarily, demonstrates a growing confidence in the crypto market. When such heavyweights as Facebook show interest in the new technologies, the latter have all the chances to turn from geeks' and programmers' entertainment into global mainstream.
And even if Libra isn't directly connected to most cryptocurrencies, these developments will boost interest in the market anyway.
Share this with your friends!