What is it like to take in the breathtaking Australian scenery from a seat on an electric motorcycle traveling at full speed? Racing driver Eva Hakansson had the chance to find out. And she recorded it all on camera, so we wouldn't feel bad about missing out.
In the video, Eva is riding a vehicle called KillaJoule. The racing driver's own development rightly deserves to be called the fastest electric motorcycle in the world, as she managed to reach a speed of 435 km/h.
The motorcycle is equipped with an EVO Electric AFM-240 electric engine, which runs on A123 Systems batteries. The engine has a capacity of 500 horsepower. The vehicle also includes two controllers, each of them amounting to 400 horsepower. This monster was built based on a single-wheel balancing lever, granting the motorcycle the same stability as a four-wheel automobile.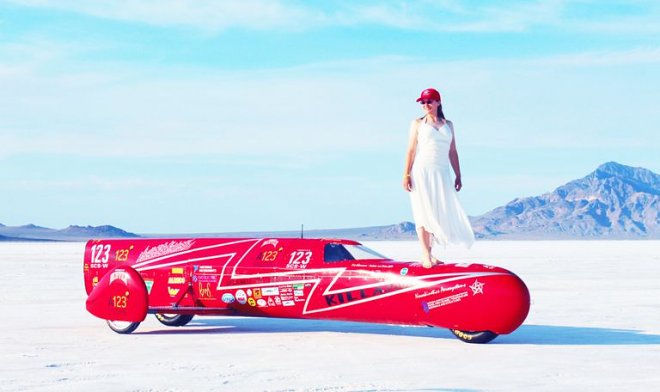 The vehicle is nearly 6 meters long and 1 meter tall. It weighs 700 kg.
The race took place at the Gairdner salt flats in Australia. As noted above, the event was captured on camera, and you can check out the video below.
Share this with your friends!