The "Its a Jack" car jack is designed to make it easier to examine vehicles. With the help of this device, you can take your car to new heights.\n
As all car owners know, it's virtually impossible to examine the bottom of a vehicle without buying a special expensive car jack or building an inspection pit. Not everyone can afford a well-equipped garage, which is why many car owners end up spending a fortune at their local car service. But "Its a Jack" will make it much easier and cheaper to service your car.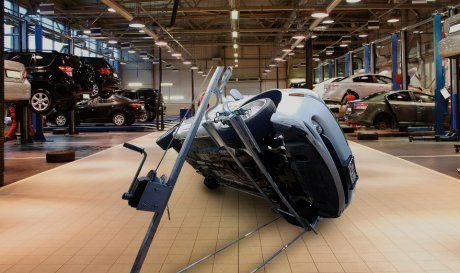 The device is made out of powder coated steel and equipped with a tilting platform that holds up the front wheels of your car. They are secured on the platform, with a hand operated cable winch allowing you to lift the vehicle to the desired height.
According to creators of "Its a Jack", the car jack can lift vehicles weighing up to three and a half tonnes, and even these can be tilted up to 80 degrees. The process is completely safe for your car, and there is no risk of it falling.
You can find out more about the project on the crowdfunding platform Kickstarter. Donations of $1000 will be rewarded with one "Its a Jack". When the funding period is over, the price will grow by $500.
https://www.youtube.com/watch?time_continue=39&v=BoZtyE38d2o
Share this with your friends!