Economists say a country's level of well-being is determined by the quality of life of the average person.
Progress does not stand still. Nowadays, the simplest of workers has many options to choose from. Many of these options were only available to very rich people in the past. Cars, mobile devices, personal computers... everything that we cannot imagine living our lives without today was previously the privilege of business elites and high-ranking officials.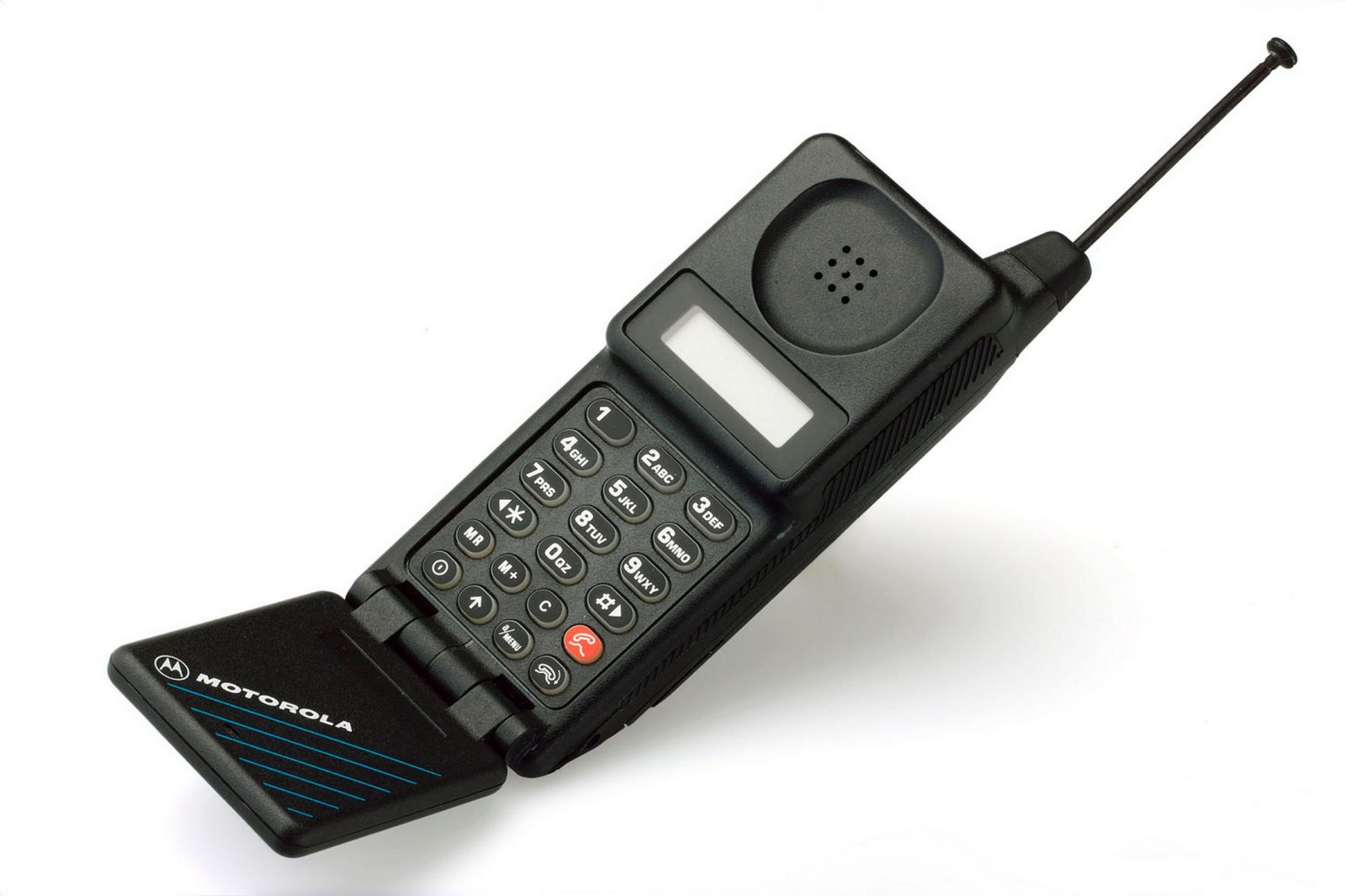 (It's hard to believe, but even a simple device such as this cost a fortune at one time.)
The same goes with a smart home system. They appeared in the 1970's and were initially considered a luxury. But over time, an innovation that seemed incredible at that time began to firmly enter the life of the mass consumer. Today, even a man on the street with an average income can afford to order a turnkey smart house or design a project on his own, buy the necessary equipment, and assemble a smart house with his own hands.
Moreover, since technology has made a big step forward during this time, smart homes have much greater possibilities in the 21st century. Their automation has increased significantly and their cost has become much more affordable.
"SMART HOME" SYSTEMS — A FUTURE TECHNOLOGY?
A smart home is a concept of interconnected electronic devices that frees a user from routine tasks and takes over all of the processes of managing a home. These include robotic vacuum cleaners, heating control systems, smart lighting, and many other kinds of controllers and components.
Using special sensors connected to a control device, the owner of the smart home has full control over all engineering processes taking place in his home. The controls are usually done using a PC, but today there are more and more options on the market. Apps such as "smart home on Android" or "voice control of a smart home" are now available.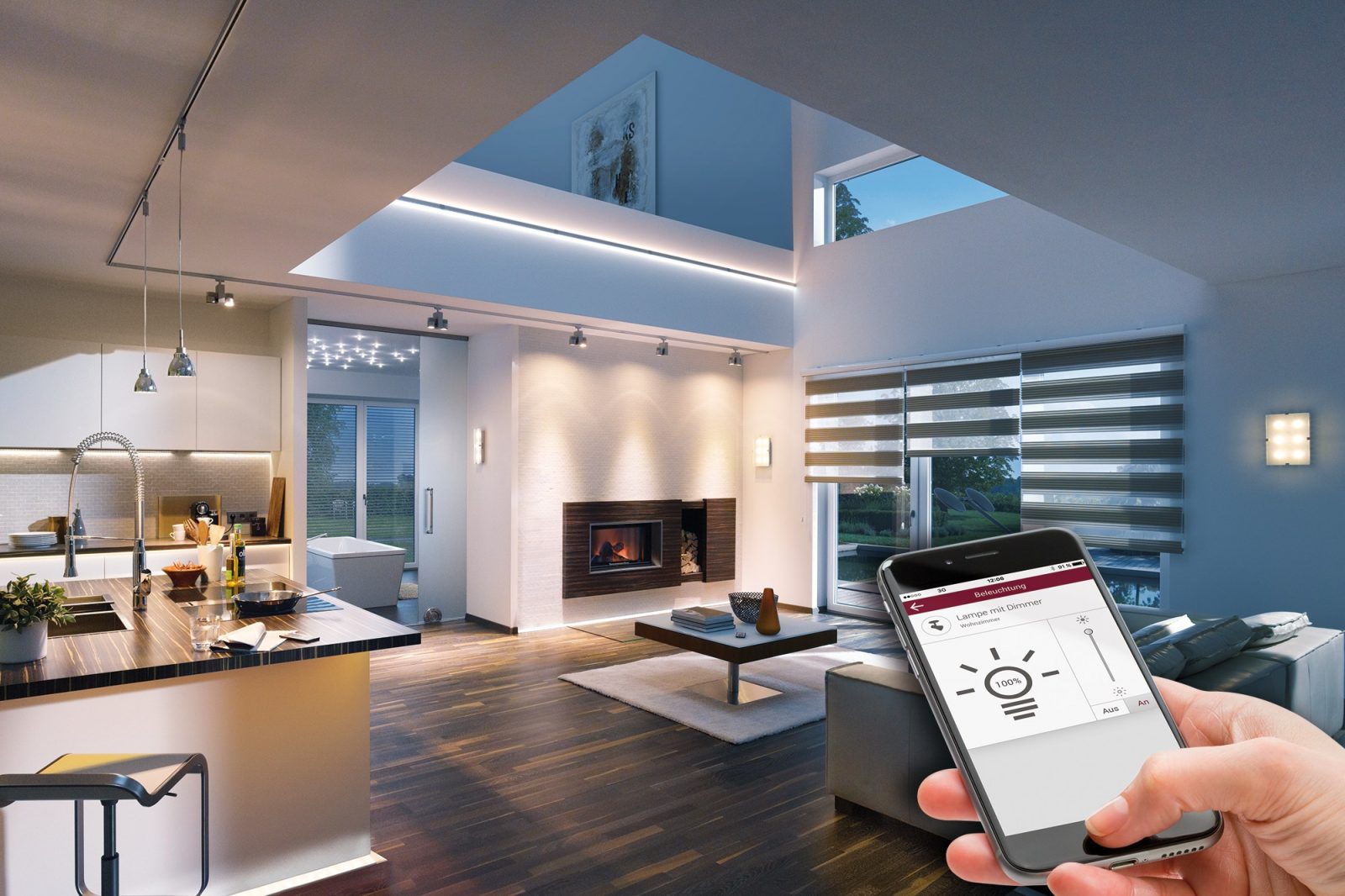 (Smartphones play an increasingly important role in our lives. Today, you can not only make calls using a mobile device, but even manage the space around you.)
SMART HOME POSSIBILITIES
It's simple: a "smart home" system is necessary in order to transfer everyday tasks to an offline mode and to optimize the user's life so that their free time can be devoted to other matters. A smart home is primarily needed by busy people who are building a career and do not want to waste time performing routine tasks. This technology will also be useful to the elderly, as well as users with disabilities. The interface of a smart home is intuitive to anyone; even a primary school student can understand it. So this innovation is perfect for clients with children. Ready-made systems are easy to operate and their installation is simple because each kit comes with instructions that contain all of the necessary information and links to the manufacturer's website.
Smart home controls:
light and electricity
climate and ventilation
security and safety
other systems such as cleaning, watering the territory, etc.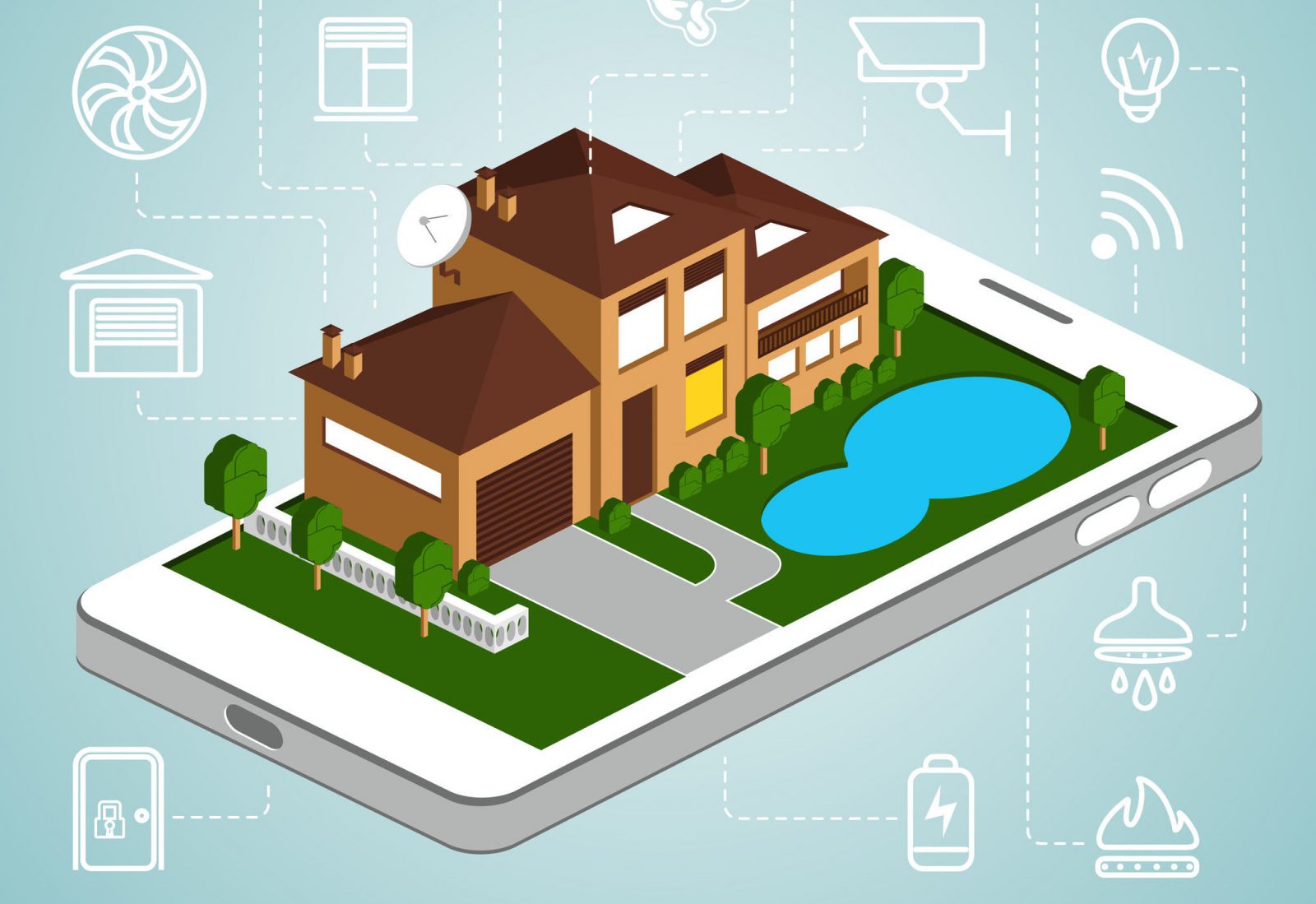 (Problems that took people a long time to solve in the past are now solved quickly and autonomously. Everything is designed for the convenience of the user!)
Let's consider the functions of a "smart home" system in more detail.
LIGHTING
When it comes to organizing lighting, a smart home simply has no equal. It can automatically open and close curtains (or blinds) using special motion sensors, turn lights on and off, and also adjust outside lights. For example, this option can come in handy during the winter holidays when many people hang decorations and lights. A comprehensive electricity management system makes the possibilities truly endless.
For even greater convenience, there are special "smart" sockets and switches that are controlled directly by a smart home control unit. Communication takes place via wires or, increasingly, using Wi-Fi. The advantage of these devices is that they are able to work remotely: you simply send the desired command and the socket instantly turns off the device that is plugged into it.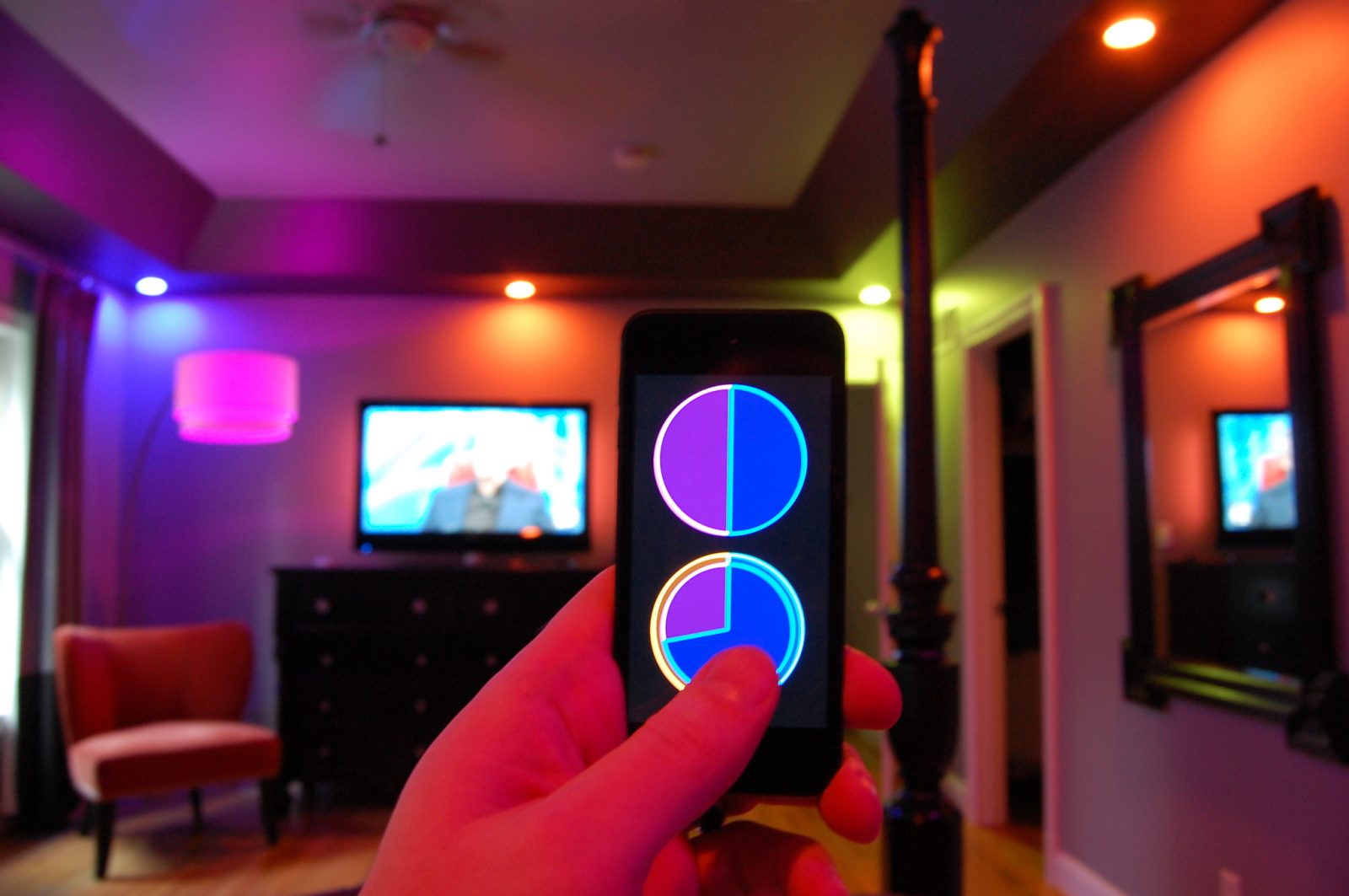 (No more hassling with a bunch of lights and switches. Your home can now do everything for you.)
CLIMATE
Whether you live in a tropical paradise or a cold, snowy wonderland, the climate is certainly very important to you. For centuries northern people have come up with new ways to keep warm, while southern people drink soft drinks and buy air conditioners. Ambient temperature has a direct impact on human life. Your health is normal, you have additional strength, and your mood improves if it is suitable. If not, there are risks of various ailments and your mood worsens.
This is why it will always be a good idea to create a smart climate system in your home, no matter where you live. As a rule, it includes several elements:
central boiler with a pipe network
warm floors
air conditioners and heaters
sensors for a smart home (temperature and humidity)
control panel
Smart home equipment can be programmed to maintain a certain temperature and humidity, as well as schedule when they turn on and off. Everything is limited only by your imagination and budget.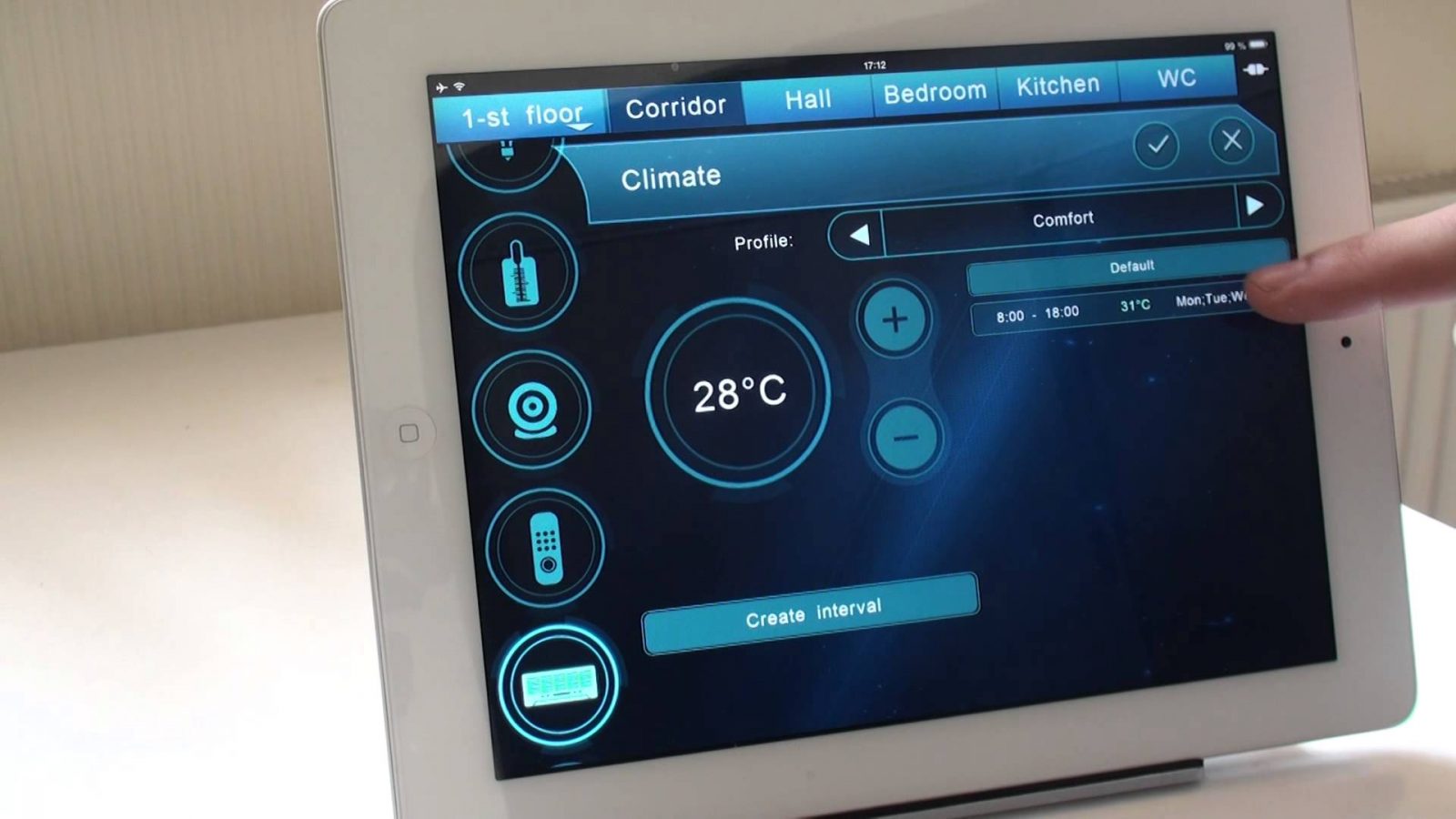 (With a smart home, nature's whims will bypass you.)
SAFETY
Safety issues have always worried people. Even in ancient times, the authorities fought against theft as best they could by introducing more and more severe punishments for thieves. But this matter is not limited to theft, because this topic is much broader than it seems at first glance. Other safety issues include fire control, prevention of damage to electrical wiring and water pipes, etc.
A smart home will protect you in all of these areas:
Sensors for water and gas leaks. A smart home system instantly reacts to changes that occur and, in case of an emergency, will eliminate any negative consequences of a malfunction. If the equipment detects any problems, it will instantly turn off the water or gas in the house.
Fire detectors. Today, the market offers a wide range of devices that monitor fire safety. They can start self-activating fire extinguishers when smoke is detected and even call the fire department!
Intrusion sensors detect movement on the property and can trigger an alarm.
Cameras allow the owner of a smart home to know what is happening in other rooms and on the street at any time. This is very useful for families with small children.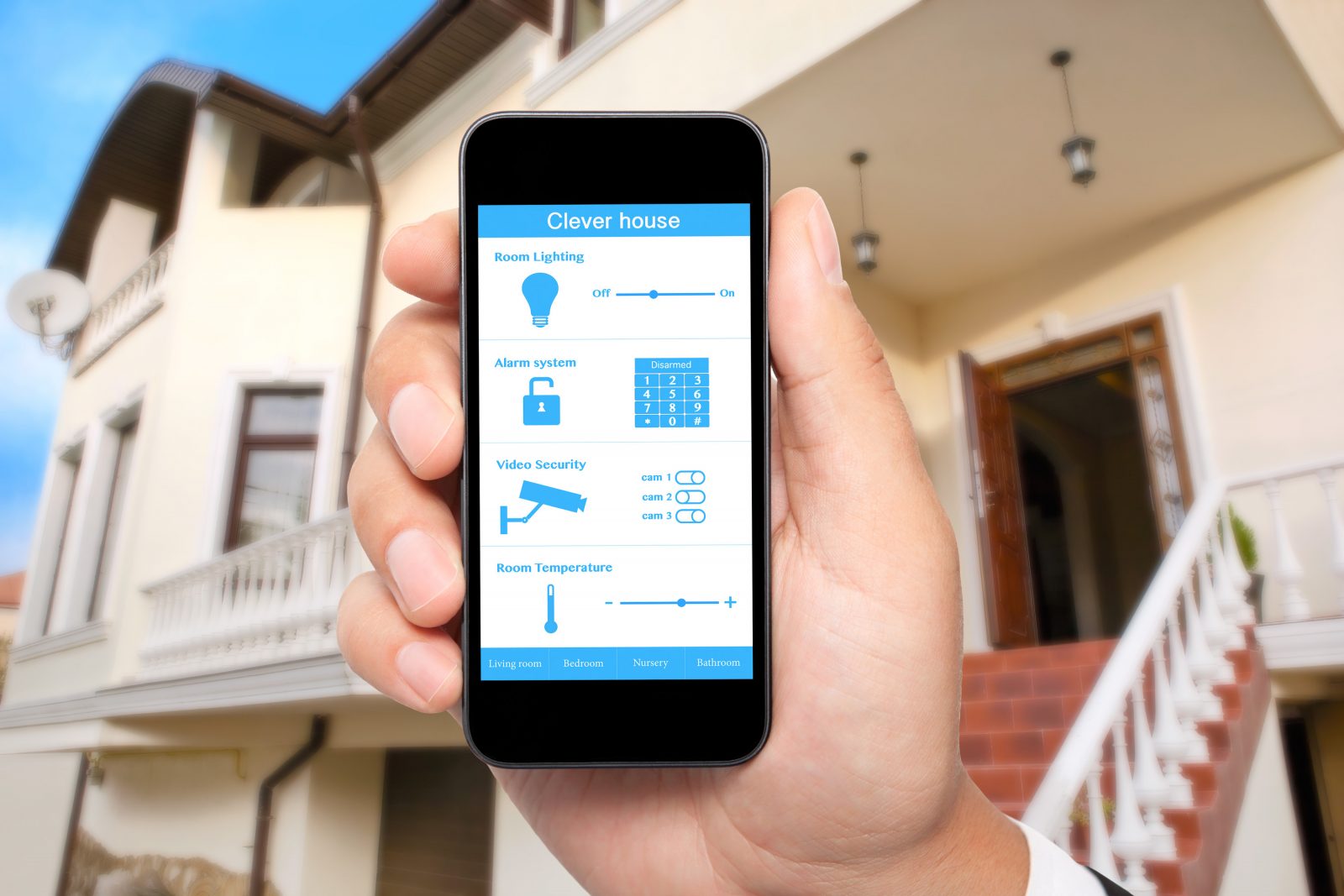 (Now a house is able to take care of its own safety.)
SMART HOME COMPONENTS
Most smart homes are modular; in other words, they include blocks of different functions that are connected to a common network. This allows all parts of the system to work together.
The main part of a smart home is its control center. The controller is a server for a smart home. It connects all devices into one integrated system and ensures that they work together.
Also of great importance are communication expansion systems, including routers, switches, etc.
With the help of electrical circuit switching devices, the required mechanism or device is switched on or off.
Detectors and sensors, as well as different measuring instruments.
Elements that directly control the entire system or its parts.
The equipment itself (cameras, illuminators, etc.).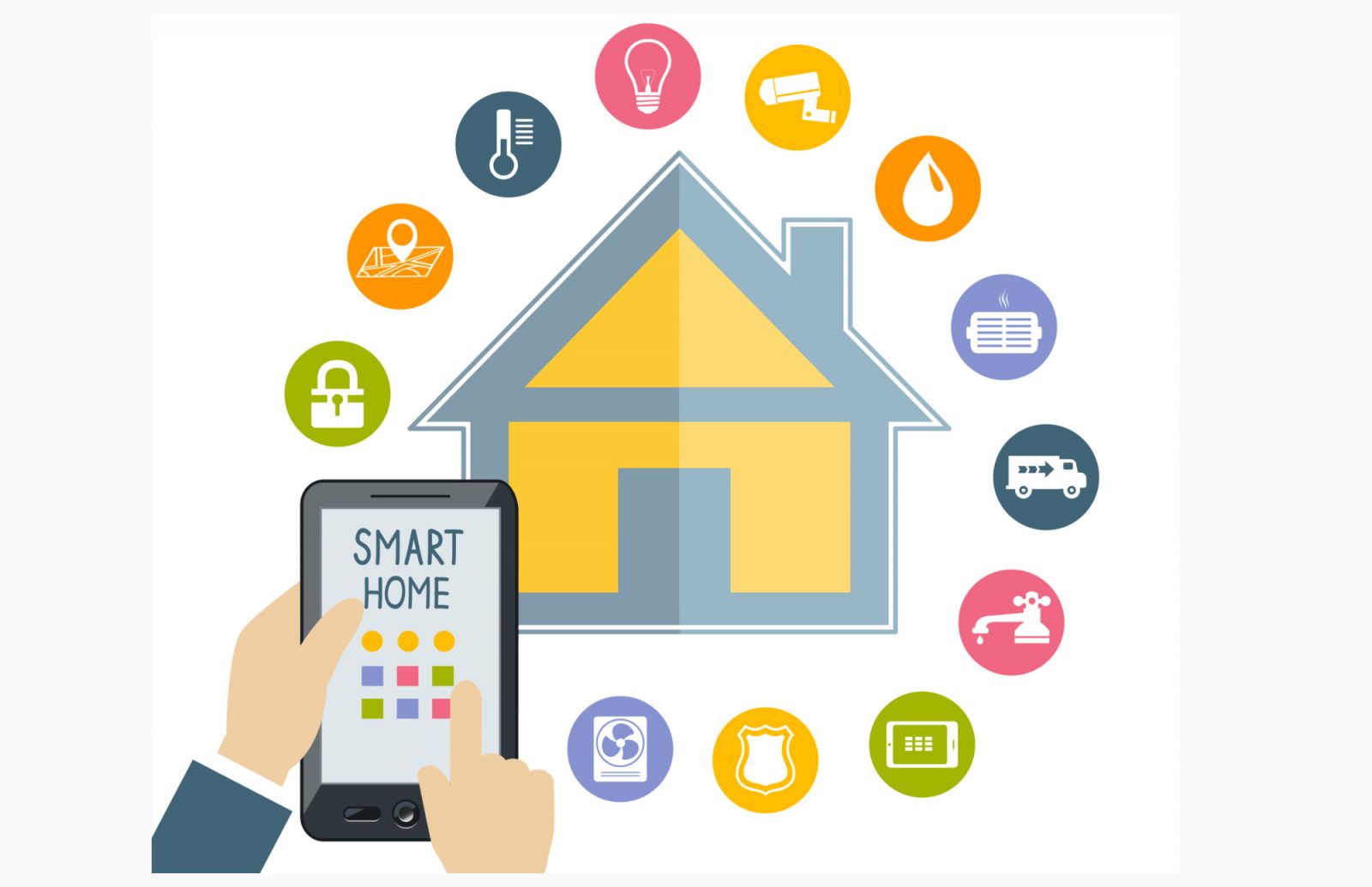 (A controller organizes all of the work of a smart home.)
PROBLEMS OF SMART HOMES
Like everything else in this world, smart homes are far from perfect. Let us look at a number of the most typical problems with this technology:
Frequent breakdowns. It should be remembered that any technical process often breaks down. Since they include many devices, smart homes break down even more often, and replacing or fixing each sensor can be quite expensive. Unfortunately, comfort comes at a price.
Energy saving. Since all smart home devices are connected to the power grid, they collectively consume a large amount of energy. This can cause significant damage to their owner's wallet.
Hacker attacks. Smart home controllers are also susceptible to hacker attacks. However, when assessing this shortcoming, the first thing to think about is: will someone go to such a length to harm you? Of course, if you are an ordinary person they can get to you by much simpler methods. However, there is always a risk.
Human factor. For people who are not good with technology, controlling a smart home can cause problems. This fact should be taken into account, especially if there is such a person in your family.
CREATE A SMART HOME WITH YOUR OWN HANDS
Creating a smart home with your own hands is not as difficult as it seems at first glance. Nevertheless, some knowledge is still needed for this. In particular, we are talking about having a "friendship" with an electrician, as well as some programming skills to create a control interface (programs for a smart home). Defining the goals of creating the system is a key step.
Sometimes a smart home is a simple and rather limited system designed, for example, to control water leaks or control lights. So, to create a "smart" lamp you just need to purchase an acoustic relay (1- or X10-Wire), connect a dimmer to it, and connect a motion sensor. It is even easier with video surveillance: almost any person will be able to install and synchronize cameras.
The most difficult types of work include systems associated with external devices: air conditioning, ventilation, home theater, etc. If you do not understand the schemes of panels, and the word "cable" terrifies you, this type of work would be best entrusted to a professional.
Currently, the development of smart homes based on Arduino is common. Arduino is an Italian company that manufactures components and software for simple smart home systems for non-specialists.
SMART HOME PROJECT
Design is the main stage in any business. And, of course, before buying equipment, you should carefully check everything. A smart home circuit should include a lot of different parameters. Therefore, if you are focusing on a complex system, it is best to entrust the details to an organization that will install and maintain the equipment in the future. This will help to eliminate flaws in the project or avoid them at the installation stage without future problems and additional costs.
First of all, you should pay attention to the warranty provided by a company. This will avoid unnecessary expenses in the future and will save you headaches. You need to choose a company with experience. And before signing a contract, you should read reviews and find out the opinion of people already working with this company.
EQUIPMENT FOR APARTMENTS AND PRIVATE HOUSES
A "smart home" system for an apartment will differ significantly from the equipment for a private house because it will include much fewer components. Cost savings occur at all stages of operation: from design to maintenance. This fact is explained in a trivial way: apartments, as a rule, have a typical layout and occupy much smaller areas.
Moreover, a "smart home" system in an apartment is limited to its boundaries, while people who live in the suburbs often install cameras around the entire perimeter of their property, use garden lighting, and install automatic garage doors. On the other hand, if you are thinking about installing a "smart home" in your country house, where you visit irregularly, there is no point in spending money on an integrated and comprehensive system. You can limit yourself to more modest options.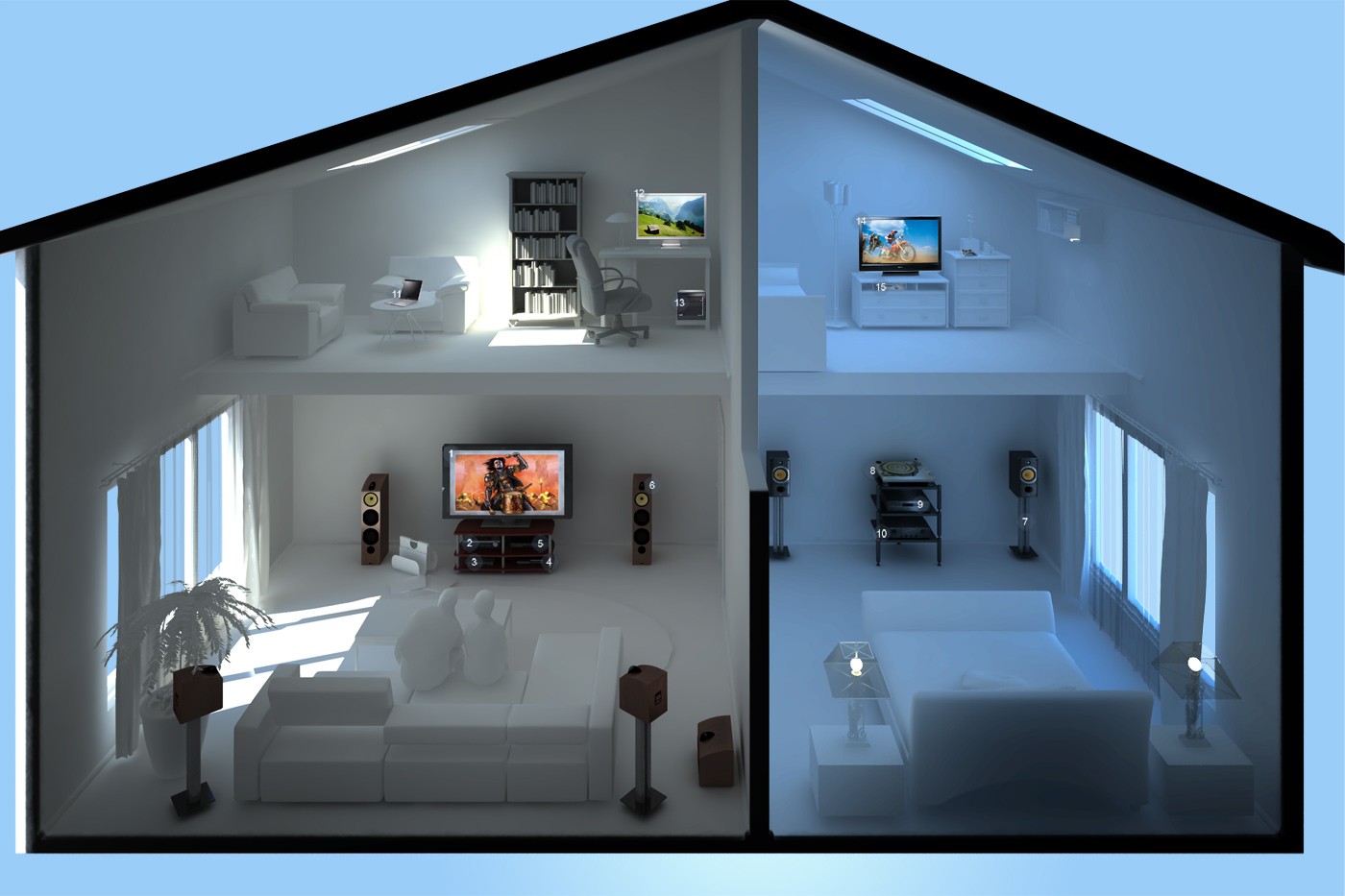 HOW MUCH DOES A SMART HOME COST?
As we have already found out, smart home technologies vary greatly in cost. It depends on the functionality, area of the object, and the manufacturer. But if we take the market average, the price of a more or less acceptable option will start at several thousand dollars. A lot or a little, you decide. But given that most people still consider smart homes to be a luxury, that's a reasonable amount.
Although, who knows what will happen in the future? It is quite possible that in a couple of decades smart homes will be so widespread that we will no longer understand how we lived without them. Let's step into this wonderful future!
Share this with your friends!