On-line education is getting increasingly popular: it is enough to have an internet access and a wide range of courses and lectures opens up for you from programming to data analysis to bio information science...
On-line education is getting increasingly popular: it is enough to have an internet access and a wide range of courses and lectures opens up for you from programming to data analysis to bio information science to economics, history of art and design.
The world's leading universities upload online their courses, video lectures, notes, presentations and test assignments.
Some universities launch their own sites running on-line courses.
But there are also some platforms that consolidate programmes offered by a variety of universities and design courses of their own. Learners can get certificates evidencing the skills they acquired during such training and successful completion of the assignments.
MIT OpenCourseWare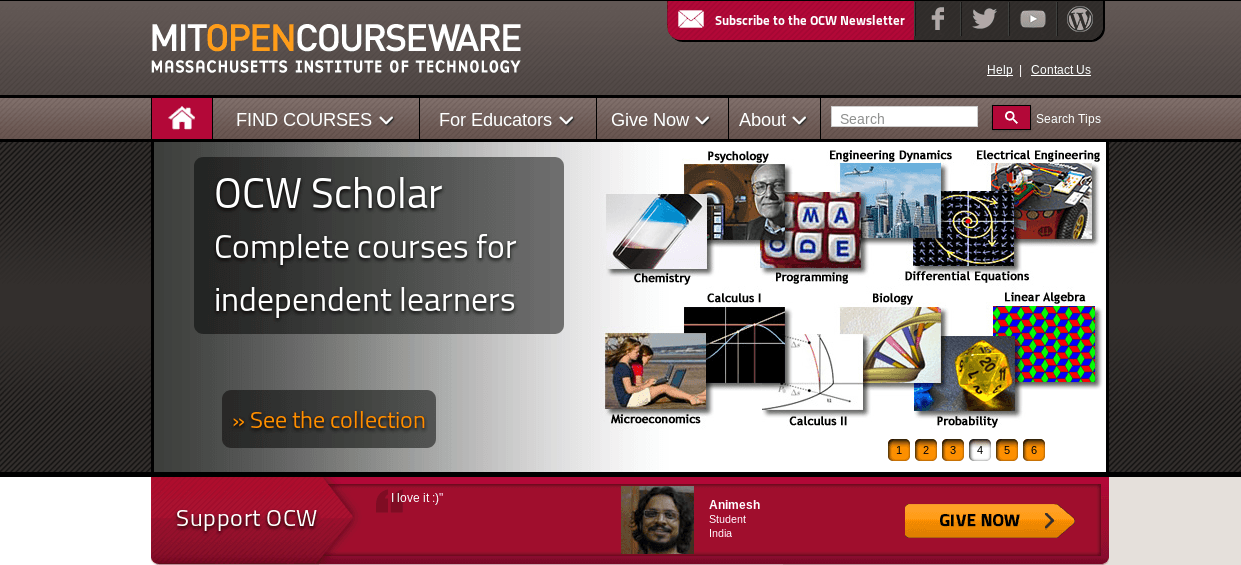 In 2001, the Massachusetts Institute of Technology announced a project that marked the beginning of the on-line academic education. MIT OpenCourseWare (OCW) is among the most well-known educational resources that have made available virtually all courses of the University to millions of users ready to learn on their own.
In 1999, the MIT Council for Educational Technologies planned to design a commercial project offering distance learning opportunities. However, by that time many University professors had put their course materials on their own web-sites in order to streamline the information and facilitate learning. Eventually, it was the on-line dissemination of the courses that made the OCW popular. Many students who later enrolled at the MIT noted that the courses had helped them get prepared to enroll and study there.
With its readership of over 300 million, the OCQ features today 2,400 courses in all subjects offered at the MIT. Technical subjects have become very popular and the most well-known ones are Gilbert Strang's Liner Algebra and Walter Lewin's Physics courses, for example.
The Hewlett Foundation and the Mellon Foundation helped to advance the OCW development. The project is currently funded through placement of links on the Amazon to buy textbooks and specialised literature required for the courses.
Harvard Online Learning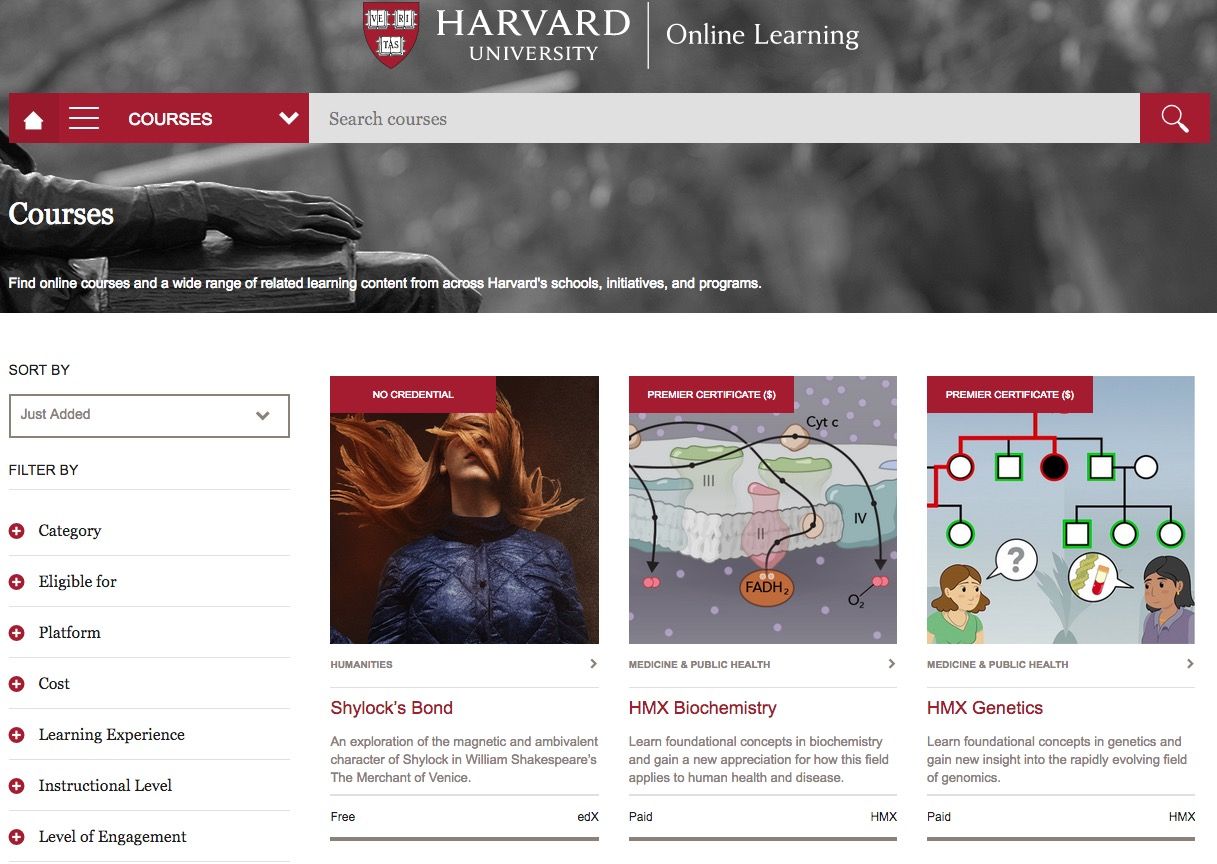 Harvard University has set up a special Harvard Online Learning portal that consolidates Harvard's courses, training materials, schools, libraries and various educational initiatives. The big catalogue boasts over 200 on-line university courses with the training programmes located not on the site per se, but on a variety of platforms Harvard collaborates with.
The courses can be categorised by fields of knowledge, study commencement dates, duration, complexity, colleges as well as the platforms they are to be found on. Free as well as fee-paying programmes are available.
The site reflects all fields of knowledge one can study at the University: art and design, business, computer sciences, data sciences, education and teaching, engineering sciences, health and medicine, humanities, mathematics, programming, natural and social sciences.
The materials are, among other, on the edX and GetSmarter platforms as well as the University's own resources — Harvard Extension School, HBX и HMX. HBX develops business courses and HMX — those in medicine and healthcare.
EdX is a not-for-profit project designed under the MOOC initiative with the support of the MIT and Harvard in 2012. Harvard uses edX to place courses developed under the HarvardX initiative.
GetSmarte offers top notch short-term courses from the world's leading universities.
Studies in small groups and individual coaching enable the students' high involvement in training.
GetSmarter currently has 12 partner universities:
MIT University;
Harvard University;
Saïd Business School, University of Oxford;
The London School of Economics and Political Science (LSE);
University of Cape Town (UCT);
Cambridge CISL;
University of Chicago;
UC Berkeley School of Information;
University of Stellenbosch Business School Executive Development;
Rice University;
UCT Graduate School of Business;
University of the Witwatersrand.
Open Yale Courses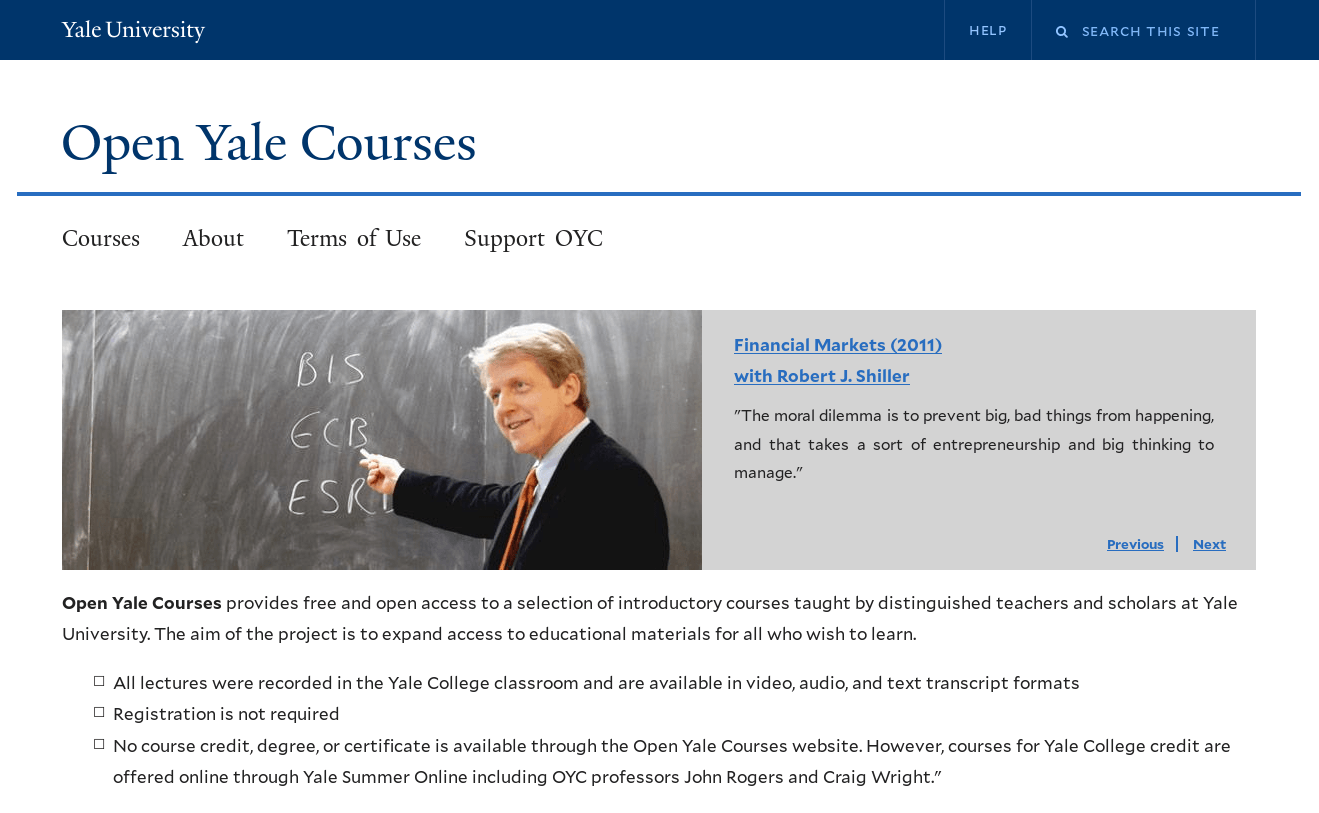 In 2007, Yale University launched the Open Yale Courses (OYC) project offering video and other materials towards its bachelor degree programmes. There are several dozens selected university courses on the OYC site on humanities, social, physical and biological sciences.
All materials are in open access, one can read them without getting registered. The Open Yale Courses do not lead to any certificates or diplomas.
Anyone can gain learning by using the videos, audios and lecture transcripts available on the site. The OYC can also help university students to better structure the learning process.
Hewlett Foundation provided financial support to the project.
Stanford Online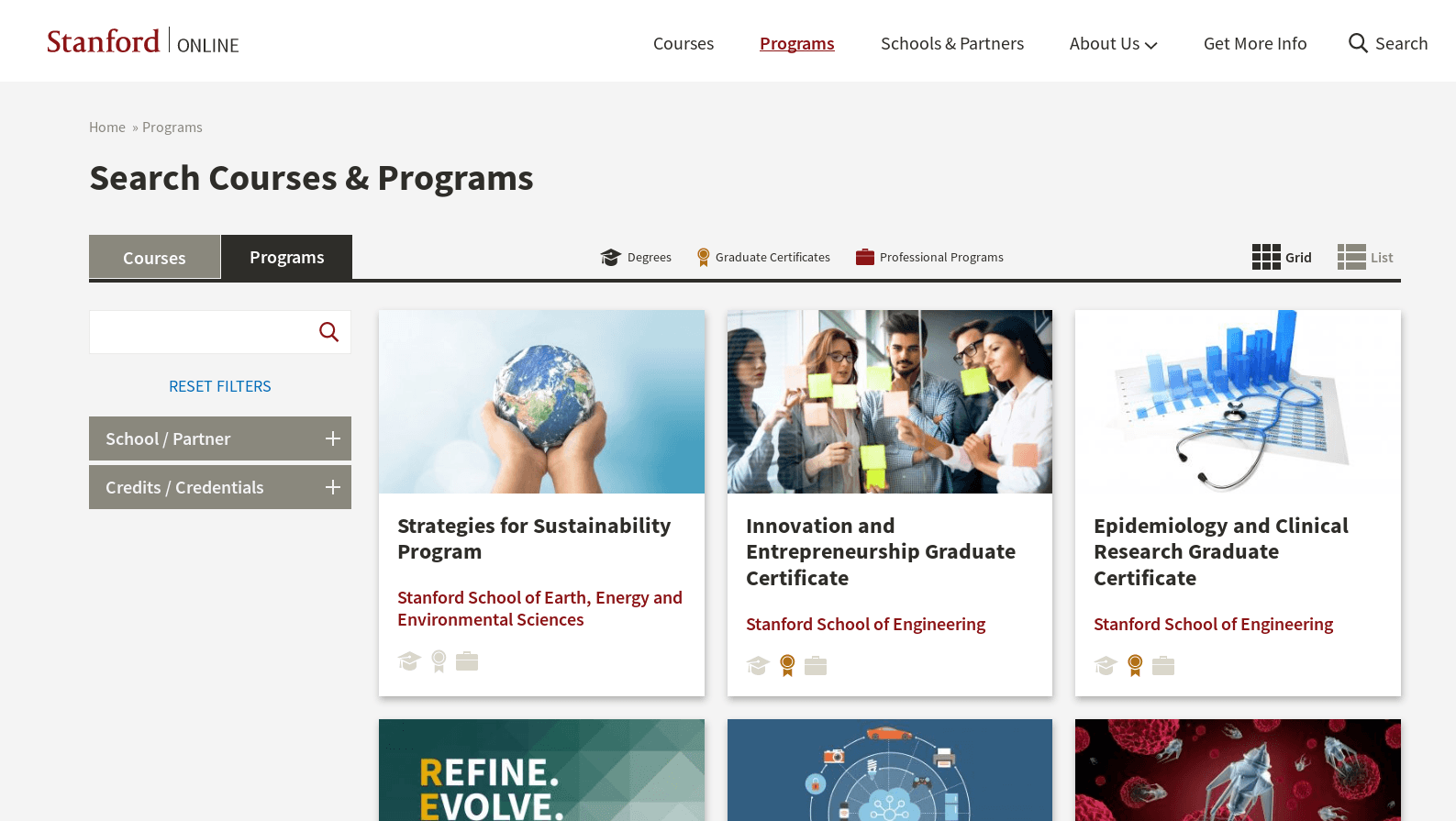 At Stanford University, the Office of the Vice Provost for Teaching and Learning (VPTL) develops the Stanford Online platform that expands learning and career opportunities for its campus students as well as outsiders.
There are free on-line courses on the platform and it is possible to get a certificate or even a bachelor or a master degree.
Stanford Online offers 100+ unique courses in various fields of knowledge: medicine, biology, business, mathematics, jurisprudence, computer sciences, etc.
Independent educational platforms
Coursera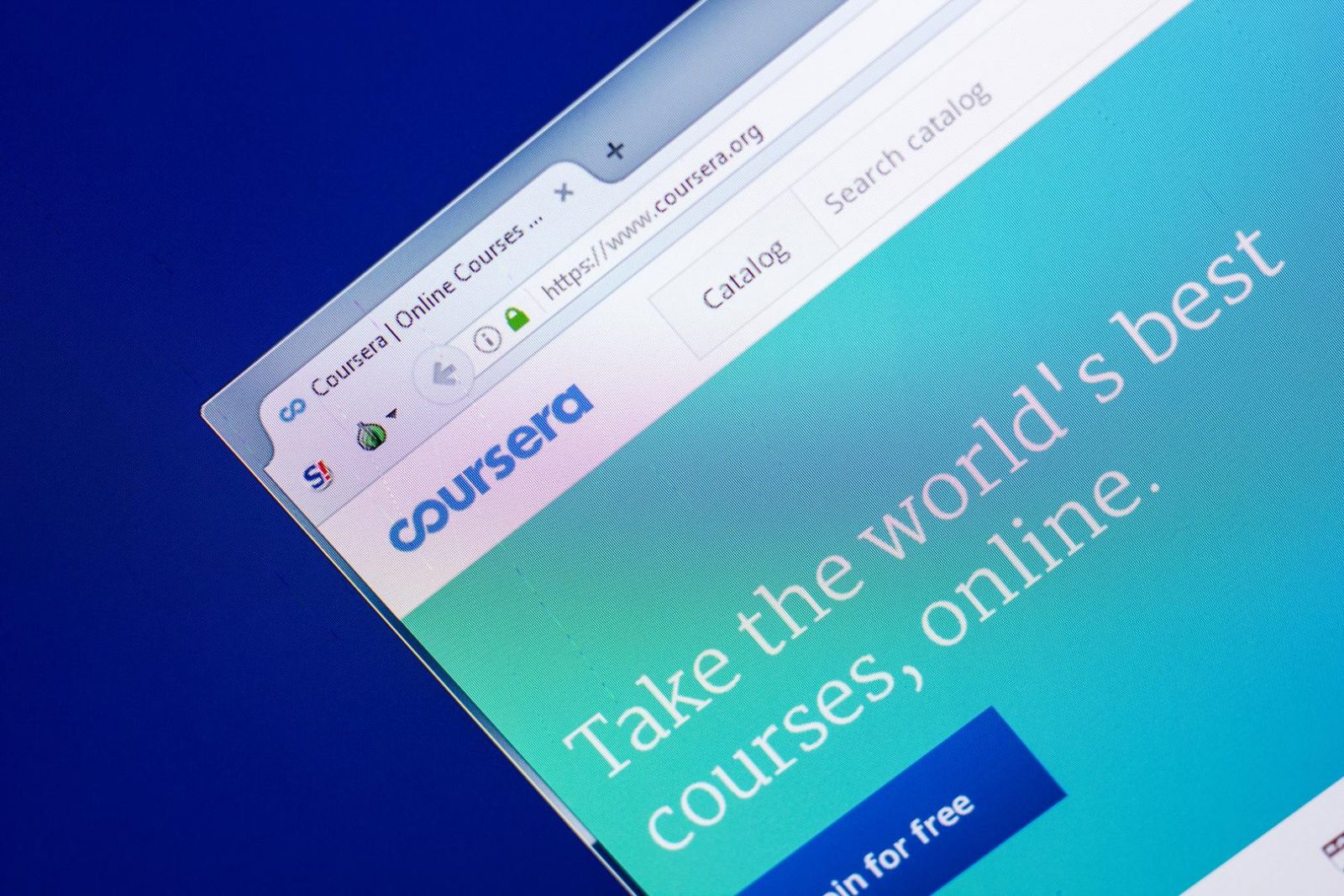 Coursera is a global educational project aimed to give students an opportunity to get full-fledged academic education on-line.
Over 2,700 courses from the world's leading universities are available on the Coursera site150+ universities currently collaborate with the platform. Most courses are consolidated into «specialisations» that offer a wide scope of knowledge in a chosen field. After covering a course and completing the assignments one can get a formal paid-for certificate. The Coursera business model is based on self-financing and granting of certificates is its main source of income.
The platform enables to get not only certificates, but bachelor or master degrees in a number of specialities.
The courses are not available all the year round but start according to the established schedule. Each course offers soft and hard deadlines that enable students to schedule their studies and timing for handing in the assignments. So, the students and professors focus on the same topics and this enhances their interaction.
The site features courses in virtually any discipline: IT, mathematics, medicine, biology, sociology, philosophy, music, history and many others. Over 250 specialisations are available to students.
As Coursera grants formal certificates jointly with universities, the developers have designed a special ID verification mechanism.
Users have to print a number of sentences and the algorithm will remember an individual's «handwriting» — the typing speed, fingerprints and the user's other characteristics. When a student is doing a test assignment, the system may ask him or her to type a few words in order to verify the identity.
Coursera attends to the needs of prospective students who cannot afford a certificate. In order to request financial assistance to pay for a specific course, one needs to send a request (at least 150 words) specifying his/her educational background, career objectives and financial standing. Requests are reviewed within up to 15 days.
Khan Academy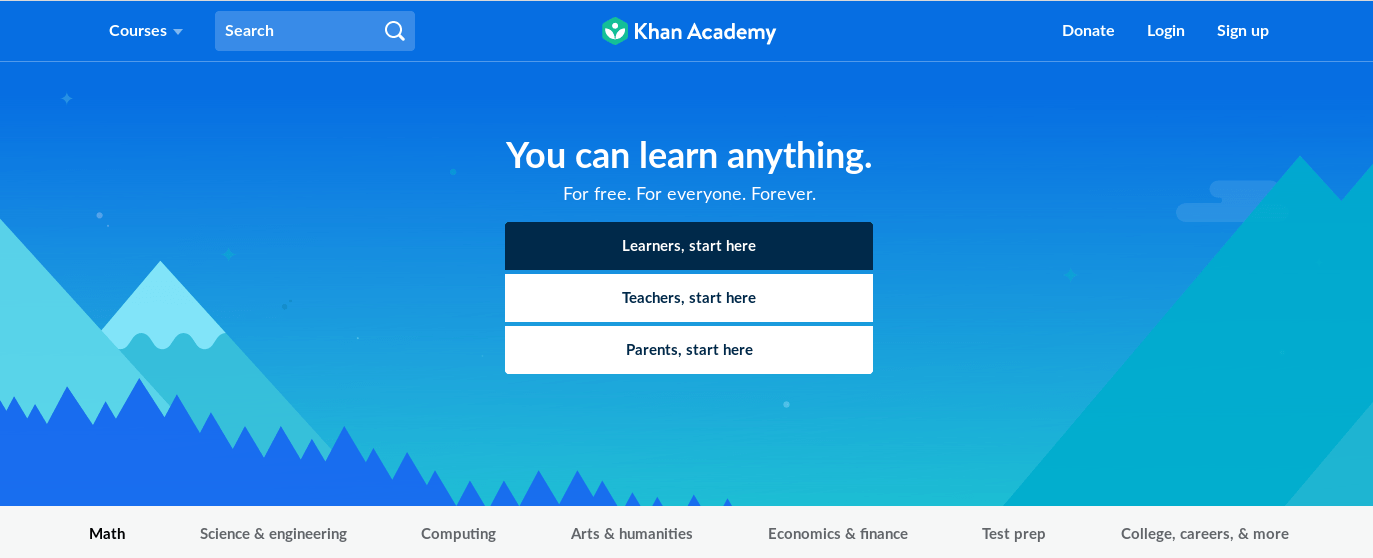 The Khan Academy project emerged by a fortunate coincidence: the platform's creator Salman Khan was helping his cousin to sort out her school maths and, for the sake of convenience, downloaded videos with his explanations on YouTube.
The educational videos enjoyed high demand and gathered a lot of views. In 2006, Khan decided to launch a site featuring all educational materials on various fields of knowledge.
The site offers a large array of maths courses ranging from basic school arithmetic to differential equations and linear algebra. The Natural Sciences section features courses on physics, chemistry, biology and medicine. There also sections on computers, humanities and economic sciences.
The courses include educational videos, texts, interactive materials, games, etc.
Khan Academy is a free resource that runs on donations. Google, Bill & Melinda Gates Foundation, Bank of America, AT&T and other big companies and foundations are among partners providing key financial support.
EdX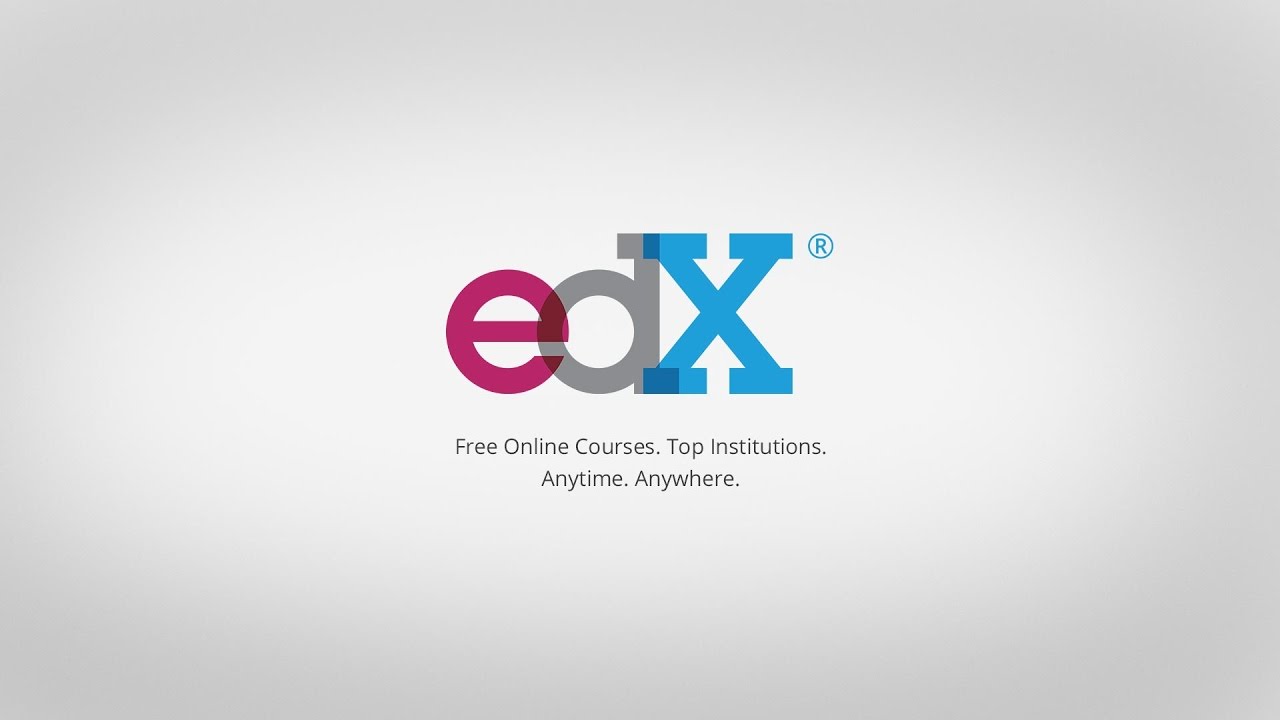 The project was founded by the MIT and Harvard University in 2012 under the Massive Open Online Courses (MOOCs) initiative. It is aimed at providing top-quality courses from the top universities to students all over the world.
The site features over 1,900 on-line courses from a dozen of the world leading universities as well as major technological companies such as Amazon, Red Hat, Microsoft, etc.
Section edX for Business enables companies to set up 'employees-only' classes for their staff.
EdX is a non-profit project. The platform's software code developed by the MIT staff is available in the repository on GitHub.
Share this with your friends!