The idea of online retail has made Bezos the richest person on the planet. In this material we talk about what principles have helped a businessman to overcome obstacles to success.
In 2018, Jeff Bezos became the most successful person on the planet according to Forbes, also securing the status of the richest man alive. If you're still picturing someone else in this position - say, Bill Gates - you're sorely mistaken. In fact, you are 7 to 10 years behind the times. The era of personal computers and Windows is long gone, replaced by new technologies, services and solutions that are suited to the needs of the modern world.
When Bezos became the first in Forbes' list of the best of the best, his net worth was at 135.6 billion US dollars. Where did he get that kind of money? It's simple - the entrepreneur is the founder and CEO of major online company Amazon, the founder of aerospace company Blue Origin, as well as the owner of The Washington Post, a famous publishing house that won over 50 awards in 2008 alone.
The future successful entrepreneur was born Jeffrey Preston Jorgensen to two teenagers: his mother was 16, and his father was 18 at the time (the latter, despite his young age, was already a successful circus cyclist). Jeff's parents were married in Mexico, because they were too young to be legally married in the United States. After a brief period of living abroad, the family returned to the USA. However, despite his fame, Bezos' father could not provide a stable income to support his family. Unfortunately, Ted Jorgensen (Jeff's father) refused to change anything. He didn't want to learn any new skills, get a degree and start earning more money. Seeing no future in her relationship with Ted, Jeffrey's mother decided to end the marriage and went back to living in her parents' house, taking her son with her.
Jeff's biological father soon lost all interest in his ex-wife and son, but by then Jackie (Jeff's mother) had already found a new partner, Miguel Bezos, who adopted the 4-year-old Jeffrey and gave his last name to the boy. Two other children were soon born to the couple, Christina and Mark, and for a long time Jeff had no idea that Miguel wasn't his biological father. Despite his mother's young age, Jeff Bezos grew up in a loving and caring family. He only remembers his biological father when filling in documents. As for Ted Jorgensen - he had no idea that his son had become a successful billionaire until he heard it from a journalist.
A journey begins with a first step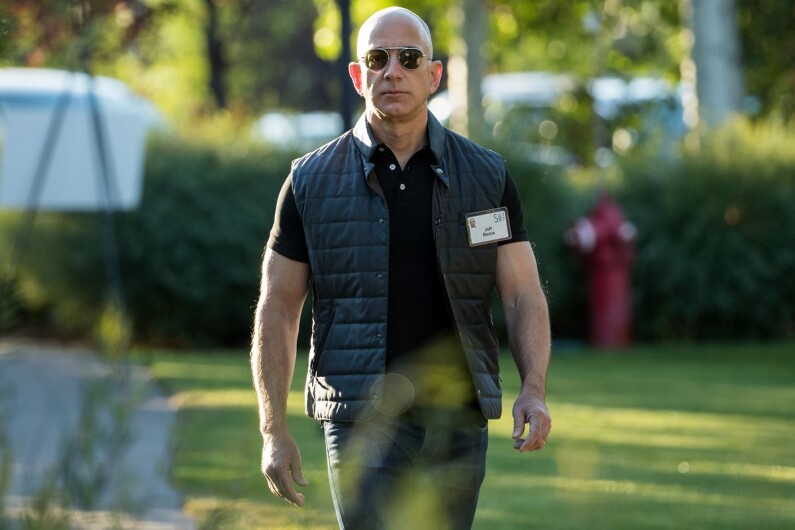 As a teenager, Jeff Bezos spent long hours locked in the garage, building different gadgets with scrap materials. Sounds familiar, right? It wouldn't be too far off to say that at least half of all successful entrepreneurs, founders of Google, Facebook and other tech giants, started out in the same way. Jeff Bezos was no exception: in his interviews, the entrepreneur looked back on his inventions, including a solar cooker made out of an umbrella and some tinfoil and an alarm system based on a baking pan that made loud noises when someone entered his room. But the biggest influence on Bezos' choice of his future career was his grandfather Lawrence Preston, who worked with space objects and later became a regional director at the US Atomic Energy Commission. When Lawrence Preston retired, young Jeff (who was just 4 years old at the time) started spending summers with him.
In high school, Bezos started working part-time at McDonalds, where he got the idea of a startup dedicated to learning about different kinds of literature. It became a sort of camp or club that, to Jeff's surprise, attracted 6 paying students. This became the first step in the future billionaire's journey.
After graduating from high school with honors, Jeff was accepted into Princeton University, and graduated from in 1986 with a degree in electrical engineering and computer science. He received lucrative job offers from top companies including Intel and Bell Labs almost immediately. Bezos worked in a variety of positions on Wall Street, followed by network development for international trade, finally becoming the vice president of investment firm D.E. Shaw & Co. Things were looking good for him: promising high-paying job, loving girlfriend whom Jeff would go on to marry, stability and confidence in the future… What more could he want? A lot more! Although his life seemed perfect on the surface, Jeff wasn't satisfied with it, so in 1994 the future billionaire left his vice-presidency behind, traveling from New York in the direction of the Pacific Ocean with hopes of launching his own project - a startup that the entrepreneur himself evaluated at a 70% chance of failure.
Bezos was constantly working to improve himself and his skills, which made him an attractive target for major tech companies. But none of them could satisfy his need for new discoveries. This went on for some time until he decided to create his own online store. According to CNBC, on the day that this idea first came to Jeff Bezos, he said to his wife MacKenzie: 'I want to quit my job and go do this crazy thing that probably wouldn't work since most startups don't, and I'm not sure what will happen after that.' Although at first she asked Jeff to give it some thought and try to combine his work and his business (which Bezos refused to do), MacKenzie Bezos later went on to not only support her husband, but work alongside him to create and develop the business. Amazon is now famous all around the globe, and the magnitude of its impact is truly astounding.
"When I'm eating lunch with my family, that's all I want to do"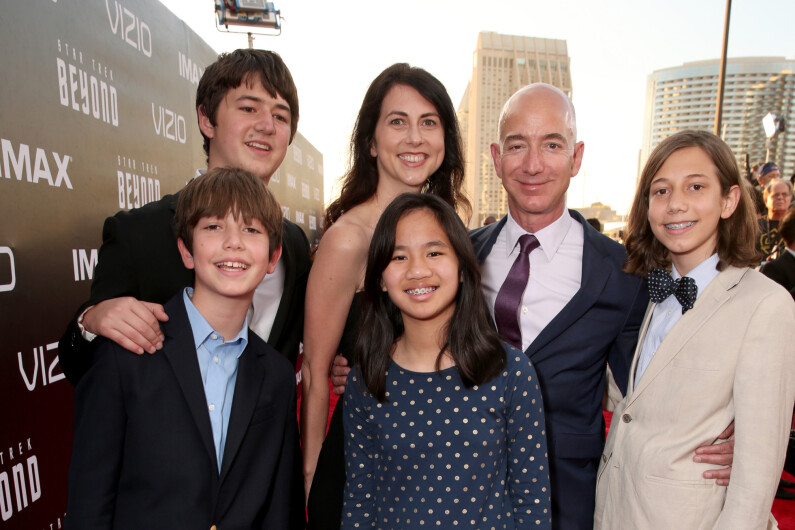 Both his disregard for multitasking and commitment to getting 8 hours of sleep set Bezos apart from many other active and ambitious entrepreneurs. Jeff doesn't like to rush: he enjoys slow breakfasts, spending quality time with his family, doing the dishes. He never schedules any serious meetings or decision making before 10 am, which is his most productive time. If he doesn't finish his tasks by 5 pm, Bezos reschedules them for the following day. Bezos even prefers to wake up without an alarm clock.
It appears that you can achieve success without spending every waking hour working. It's much more important to stay grounded and keep a clear mind. By working slowly and paying attention to his surroundings, Bezos arrived at an incredible realization: the number of Internet users was growing at an exponential rate every day… And there was so much to offer them! That's how he came up with the idea of selling books online, which was also motivated by his wife, who had just started writing her first novel at the time, followed by another one soon after. Both books are considered global bestsellers today and are available for purchase on Amazon. When it was time to name his online shop, Jeff took this task very seriously. He started out with some basic ideas like Bookmall.com. After giving it some thought, the entrepreneur decided on Cadabra, but then his lawyer joked that 'it sounds just like cadaver'. Bezos realized that others might have similar connotations with this word, so he picked up a dictionary, where one of the first words he saw was 'Amazon'. And that's how he came up with the final name that is now famous all around the globe.
"If we had known we would separate in 25 years, we would do it again"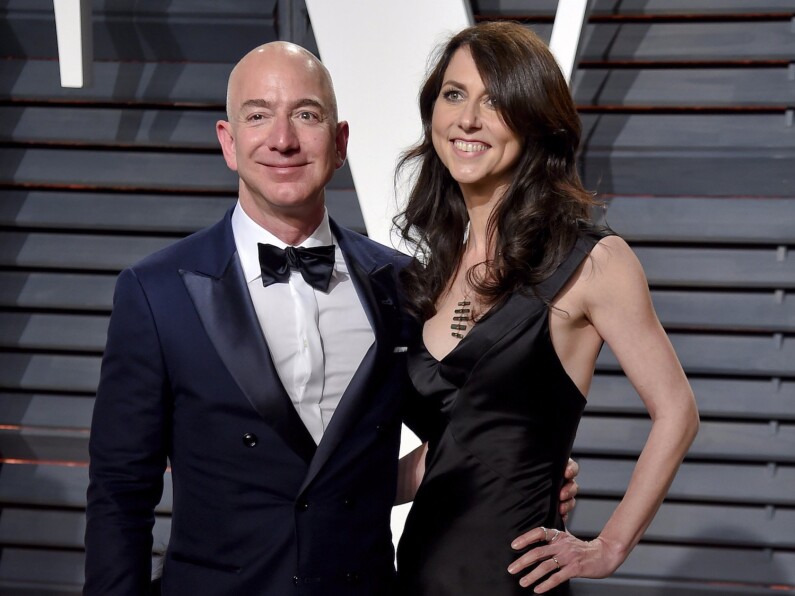 The company's initial success was largely based on sacrifices and hard work made by those closest to Bezos. The entrepreneur has mentioned many times that his wife MacKenzie was his right hand, his partner and inspiration. No wonder their marriage seemed so perfect on the outside: successful partners, with three biological children and one adopted, incredible support and confidence in each other. Unfortunately, even the most successful and influential people are not insured against the twists of fate. In September 2018 the couple celebrated their 25th anniversary, and in January of the following year they made an official announcement about their upcoming divorce. The news was shared according to modern standards: the husband and wife wrote heartfelt posts on their Twitter accounts, promising to remain friends and partners in ventures and projects.
The announcements were almost instantly followed by a new piece of news, this time from the National Enquirer: Jeff Bezos had entered into a new relationship with journalist Lauren Sanchez. Although Sanchez was officially married, she was living separately from her husband. To avoid any backlash against Bezos, the New York Post announced that both Jeff and Lauren had formally ended their relationships with their former partners before getting together. Both families were aware of this because they used to be friends. At the time of the announcement, Lauren was 49 and Jeff was 55.
After the recent divorce in July 2019, MacKenzie Bezos became one of the richest women in the world. And although she was legally entitled to 50% of everything, she did not take her husband to court, settling instead on just 4% of her ex-husband's earnings. According to experts, MacKenzie will hold $39 billion in Amazon stock after the divorce. The billionaire's ex-wife gave up her shares in The Washington Post and aerospace company Blue Origin.
"It's time to go back to the moon, this time to stay"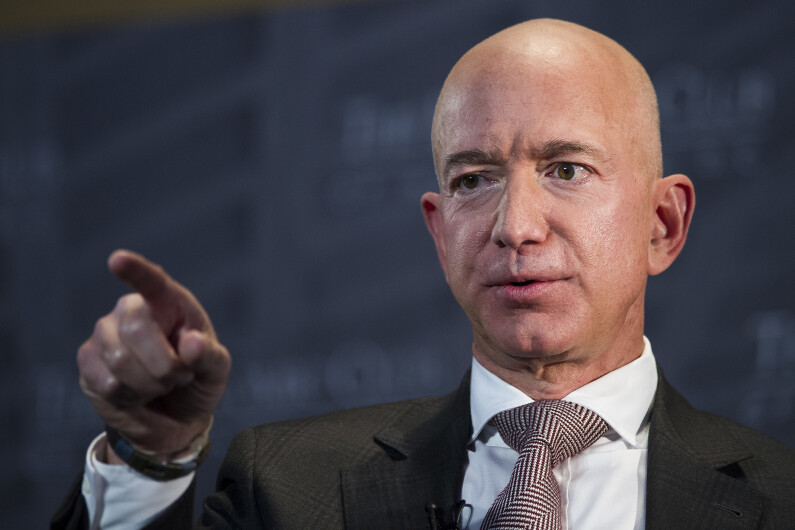 Let's talk about the conquest of space. In May 2019, Jeff presented a new spaceship model developed by Blue Origin. According to plan, the spaceship will land on the Moon, transport scientific equipment, and launch satellites on the Orbit of the Moon. The entrepreneur has also expressed his support for the NASA moon landing project scheduled for 2024.
It appears that Elon Musk has inspired a generation of astrophile entrepreneurs. Jeff Bezos has yet to reveal the timeline for the launch of his spaceship, but he has been quite vocal about his plans to transport people to lunar orbital stations with the eventual goal of colonizing the planet. Bezos believes that humanity must thoroughly explore space and find ways to use its resources, which is why he is actively involved in creating and financially supporting advanced space projects. Who knows - maybe the Amazon founder's cool, thoughtful and ambitious approach will carve out a path for a new era of lunar exploration?
***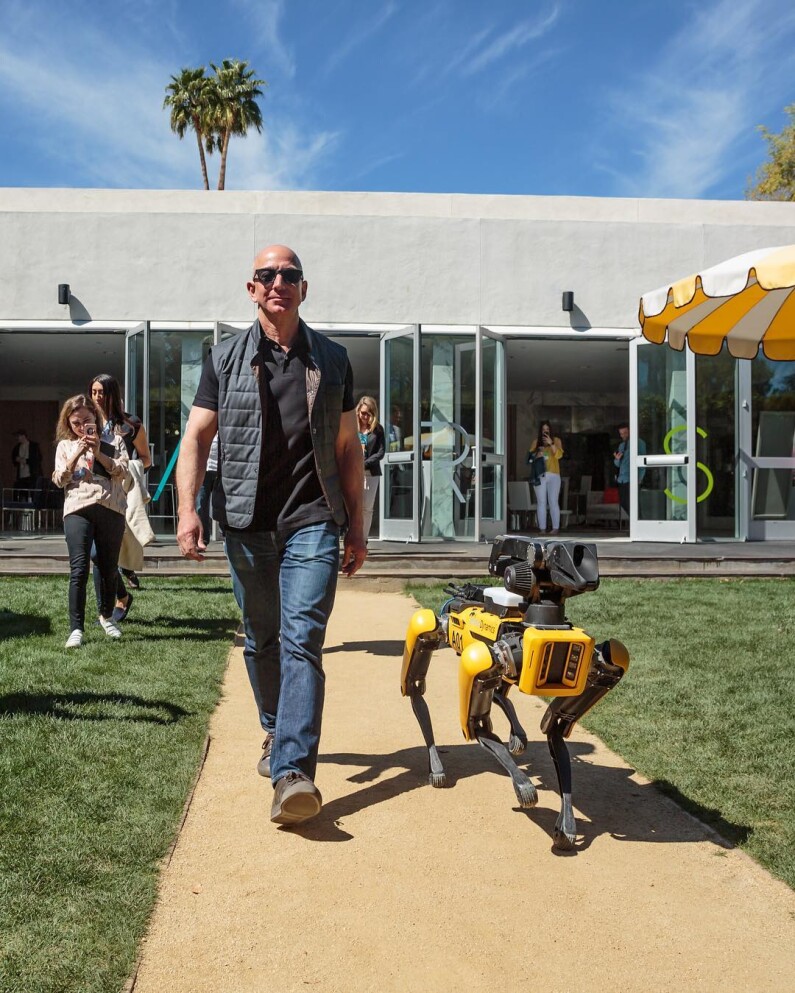 In one of his books, Bezos said that a company can only achieve success if it is led by a tyrannical genius. Jeff has been repeatedly accused of a brutal and ruthless approach towards Amazon partners and suppliers. He believes that an entrepreneur needs a laser-sharp focus on his business, and everything else is just an instrument or an obstacle on the path towards success. Some might consider his views to be controversial, but it's worth noting that a softer approach might not have brought Bezos the same overwhelming success.
Share this with your friends!