How did Microsoft's co-founder became one of the richest and most powerful people in the world and what principles helped his success
Bill Gates, the "father" of Microsoft, founded the world's largest software company and is currently one of the richest people on the planet. His biography includes several technology companies, a charitable foundation, as well as socially important start-ups. What other things is Gates known for and how does he live now? We will tell you in this article.
Rich, generous, famous
Bill Gates is the founder and co-chairman of Microsoft, Berkshire Hathaway, Cascade Investment, and several other technology projects. Until 2008, he was the head of Microsoft. Today he is the chairman of the board of directors with no executive capacity. Mr. Gates runs a charitable initiative in his own name and calls philanthropy one of his hobbies.
He was named the richest man in America as many as 20 years in a row and another 16 times - the wealthiest businessman in the world. The last time he received the title of the wealthiest businessman was in 2016 from Forbes. At the time his net worth was estimated at 77 billion dollars. At the same time, Gates has donated large sums of money to charity more than once - for more than 16 years. As of 2010, he had donated about $28 billion into his foundation.
Bill's net worth is now estimated at 100 billion dollars. In the 2018 "Forbes" ranking of billionaires he dropped to second place behind Mr. Bezos, the owner of Amazon. Newspaper journalists estimated Bezos' wealth at more than 110 billion dollars, and Gates' wealth at 90 billion. Bill is in 7th place on the list of the most influential people on the planet from the same publication.
Childhood, adolescence, programming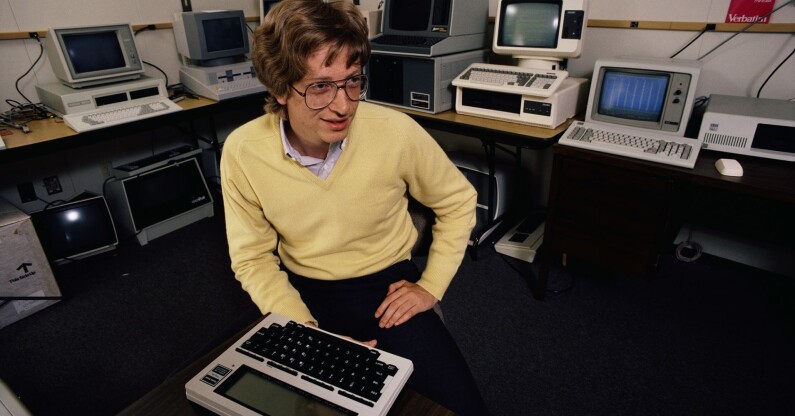 Bill was born and raised in Seattle. His father was a lawyer and his mother worked for several banks and was on the board of directors of U.S. West and United Way. As a boy he studied at one of the best schools in the city; it is thanks to this that he became interested in programming. At the age of 12 or 13, Gates wrote a tic-tac-toe game in programming language. This became his first program.
While still at school he became friends with Paul Allen, who later became a co-founder of Microsoft. While testing one of the computers at school, the friends hacked into its system. This allowed them to continue working on the device, but they were punished by being banned from working on computers for 3 months. After the 3 months passed, the company which Gates and Allen hacked agreed to their proposal to search for errors in their software.
After the company's bankruptcy, Information Sciences invited the talented students to create a payroll management program. In return, the friends were able to work on one of the computers for several hours a day. After some time working there, Bill, Paul, and two other colleagues decided to create their own technology company. But the program was not completed properly and Bill's parents, who described him as "crazy about computers", decided to take him to a psychiatrist.
At the age of 17, Bill Gates recruited Paul Allen and Paul Gilbert to work on a traffic counting meter. The device, operated on software developed by the programmers of Traf-O-Data, analyzed traffic and created reports for engineers. However, the company's net profit did not exceed a few thousand dollars over 10 years. In the same year, one of Gates' former employers invited his team to work for TRW, which was creating large software projects at the time.
Microsoft: the beginning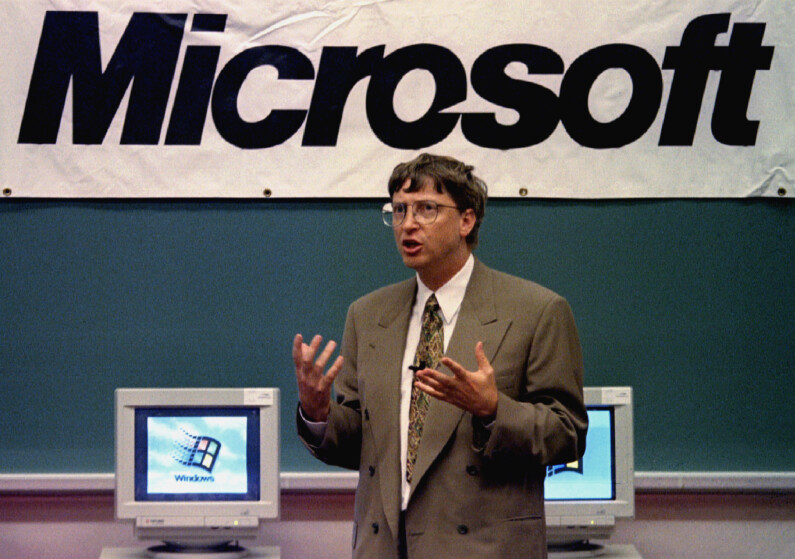 In 1973, the future billionaire enrolled at Harvard. But two years later, after being expelled, he completely went to work on creating his own software. In 1975, Gates and Allen founded Micro-Soft. Working in the Basic programming language which they already knew, they created software for the MITS personal computer, which both were working on at that time. In 1976, the Microsoft trademark, which is familiar to everyone, was registered. Gates received 64% of the shares - his contribution to the project was considered to be the most instrumental (from his point of view). As a result, the company had successfully created software for a personal computer.
In 1977, Gates was engaged in business communication and product promotion and the company released the Microsoft FORTRAN software for devices with a CP/M operating system. Microsoft became known for its technical innovations throughout the entire market. Three years later, they began cooperation with IBM. However, the creators of the company did not have time to complete their work on the IBM software and the product's source codes were transferred to experts from a third-party department.
In 1985, Gates' career took off. A new operating system, called Windows, was created. Ideas for the project were found in the already existing Apple and Xerox software.
The company took up all of Bill Gate's time and thoughts, and it is not surprising that his personal life also turned out to be connected to Microsoft. He met his future wife, Melinda French, at a press conference in 1987. At the time, she had been an employee of Microsoft for several years. The couple got married in 1994. After 2 years, Bill and Melinda had their first child - Jennifer Katharine. After another 5 years, Rory John Gates was born, and in 2002 the couple became parents for the third time - the Gates couple had another daughter, Phoebe Adele.
In addition to Microsoft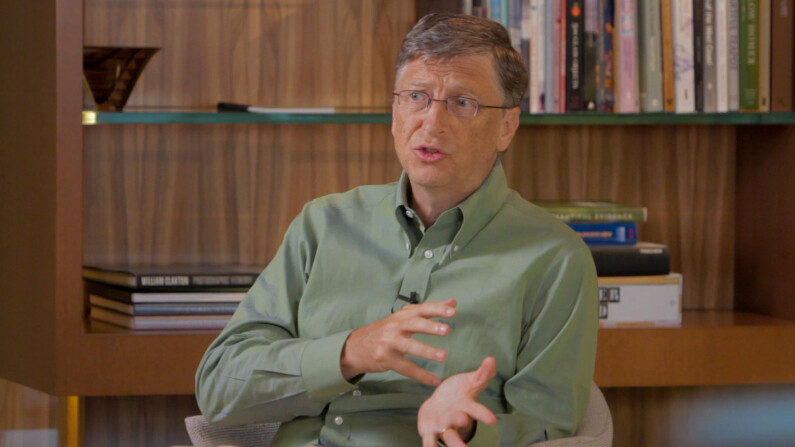 In 1989, Bill founded Corbis, a multimedia project company. He was not interested in the development of the company, since the direction of its activities was not fully consistent with his life - programming.
Gates is a lover of classical art; In 1994, he acquired a collection of works by Leonardo Da Vinci. They were later transferred to an art museum in the businessman's hometown 10 years later.
Bill's charitable initiatives went far beyond the classical understanding of this term. In 2004, he handed over $30,000 to George W. Bush's presidential campaign. In the same year, Gates became one of the members of the board of directors of Berkshire Hathaway, a holding company that offers car insurance services and is also a distributor of paint and textile brands. Around the same time, Bill became a top executive at a biotech start-up in Bothell, Washington.
After leaving a permanent job at Microsoft in 2008, the businessman fully devoted himself to managing his own charitable foundation. Despite his long tenure with the technology company, Gates finally confirmed his intention not to return to the Microsoft team in any capacity in 2011. But Bill did not leave as head of the board of directors; he actually only left the company in 2014. At that time, he had no more than 5% of the shares of the technology giant.
When he left Microsoft, the entrepreneur founded "bgC3". This new company was supposed to be engaged in research and analysis in the field of software, according to an official statement. In 2015 Bill founded a fund to search for private investment for the development of alternative energy sources. Mark Zuckerberg, the creator of the social network Facebook, is a co-founder of the fund.
Gates vs. Jobs and Gates vs. Allen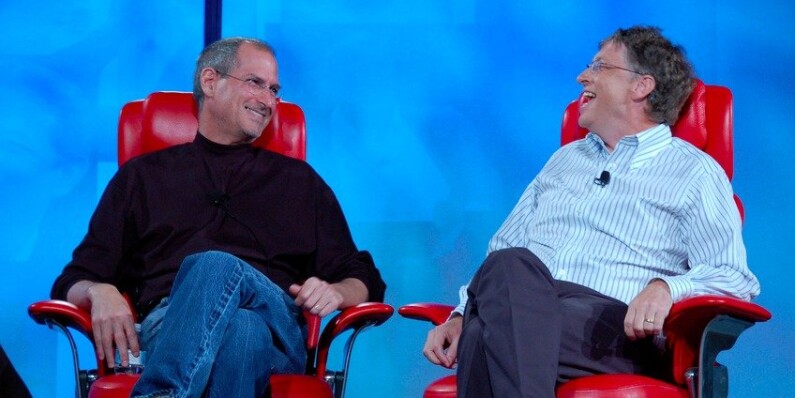 The conflict between Gates and Jobs arose from the fact that one of the developers at "Microsoft" used Apple's ideas. At first, Jobs did not pay attention to the programmer's interest in the software that the company was producing at that time. However, after the release of the first operating system from Gates and Allen, Apple's executive was furious. Technologies similar to MAC OS were used in the first version of "Windows". But Apple did not actually own the rights to them. Because of the scandal, Microsoft received a frosty reception from consumers and the company had to start developing a system for personal computers from scratch. Interestingly, Gates and Allen have had an indefinite right to use the entire MAC interface since 1985.
The conflict between Bill Gates and Paul Allen, whom the programmer created his company with, began in 1975. According to Paul's biography, from the very beginning Gates considered his contribution to Microsoft to be more valuable. This was reflected in the size of the shares that went to each programmer and the amount of remuneration. In 1982, Allen was fighting cancer and decided to leave the company. Bill, along with one of his partners at that time, was considering the possibility of reducing Paul's shares in the company. As a result, Allen still received a lump sum from Microsoft - his fortune stands at no more than $15 billion. The majority of this came from a block of shares of the company which he and Gates had created.
What's next?
Bill Gates has never revealed his plans for the future. He is actively involved in the development of a charitable foundation, which his wife also participates in the management of. In addition, Bill continues to manage companies focused on technology market research (for example, "bgC3") and a foundation established jointly with Mark Zuckerberg.
Charity is now in the forefront for Bill Gates. It is unlikely that the next technological breakthrough will come from the founder of Microsoft in the coming years. In his own words, every significant development takes several years of continuous work on its implementation and the subsequent improvement of technology.
Bill Gates, the genius of our time and one of the richest and most influential businessmen in the world, will go down in history primarily as the founder of Microsoft. His other initiatives harmoniously complement his original role, turning Gates into a developer and a businessman who does not depend on a particular company and can successfully manage almost any project in his field.
Being like Bill Gates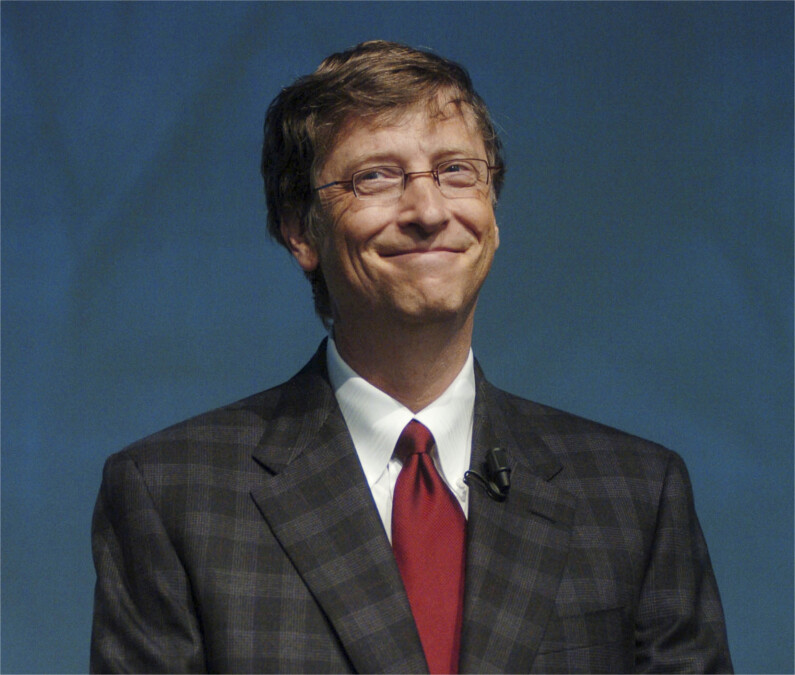 Those who want to repeat the success of Bill Gates do not have to search very far for information about the steps the creator of Microsoft took. He shared the secret of his success in his books. In 1995, "The Road Ahead" was published. It tells about the development of society in the era of new technologies. The book has been edited more than once - for example, just one year after its release it had to be amended to reflect a new area of development for Microsoft, Internet technology.
Gates's second book, "Business @ the Speed of Thought", was written for businessmen and entrepreneurs who would like to implement information technology in their companies. Inside it you will find a detailed description of the concept of lean manufacturing, as well as ways of introducing new technologies into business - and solving the pressing problems of entrepreneurs with their help. The book is available in about 60 countries and has been translated into 25 languages. And if you have no time to read books, it's enough to remember a few quotes from Bill Gates:
"If your business is not on the Internet then your business will be out of business."
"Your most unhappy customers are your greatest source of learning."
"Enjoy what you do and you will never have to work in your life."
"All advertising will be transferred from mass media to the individual sooner or later."
"Success is a lousy teacher. It seduces smart people into thinking they can't lose."
"Investment in electronic infrastructure and education is a major factor in ensuring the competitiveness of any country."
Share this with your friends!