Many users put their PC on the table. But the Taiwanese company went even further and created a computer built right into the worktop.
Lian Li, a company based in Taiwan, literally stunned its customers when they introduced their DK-04 computer. It is made in the style of a regular desk.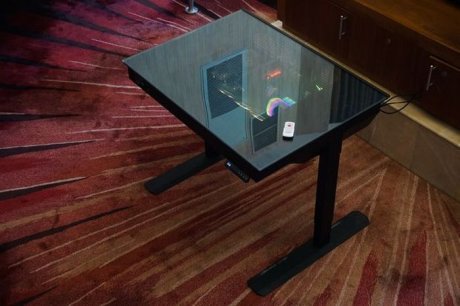 The height of the device is adjustable so that each user can customize the computer for themselves. The body is made of aluminum and the tabletop is made of durable glass which changes transparency depending on the settings. It also contains all of the components.
The computer is equipped with high-performance electronics, but it almost runs silent. This was achieved by correctly positioning the components and equipping the device with vibration-reducing dampers.
The DK-04 has several USB ports, an HDMI output, audio connectors, and everything you need to work comfortably. The table looks very elegant and futuristic thanks to the high-tech backlight. And so, Lian Li has introduced a fundamentally different view on things which are already familiar to everyone.
The price of the device will be somewhere around $1,200.
Share this with your friends!