Japan's largest video game manufacturer has confirmed its involvement in the PR campaign run by the local law enforcement agencies to recruit new specialists.
Our society is getting increasingly digitalised with high technologies gaining a more important role. Law enforcement agencies have to promptly respond to these changes, employing not only strong and brave fighters, but also shrewd psychologists and insightful cyber security specialists – the latter being especially topical nowadays. The characters from the famous Street Fighter game will embody them.
Many Japanese have come to love the game's characters, so they are a perfect fit for announcing the recruitment of new people to the Japanese police. About 1,000 posters will be pasted up with another 3,000 to be printed and distributed in Osaka Prefecture.
Capcom and the law enforcement agencies already collaborated along these lines back in 2013, when the characters of several universes were featured in motivational posters, but the protagonists of Street Fighter were not used for the purpose.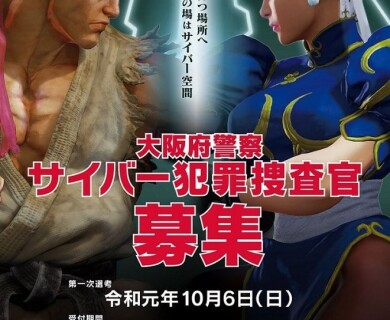 Share this with your friends!