BAE Systems is a UK-based defense company launching a real revolution in the aircraft industry. One of their innovations is a plan to get rid of mechanical manoeuvring units on aircraft.  
At present, BAE Systems is testing a Magma device — a UAV without a steering wheel, flaps or ailerons. Air manoeuvres are achieved by managing air flows.
The machine was built based on the 'flying wing' principle and is equipped with special openings that enable air flow. The engine makes gas move at ultrasonic speed, allowing the plane to lift off into the air.
A crucial part of the system is the dynamic thrust vector, achieved by rotating a nozzle which enables reactive thrust.
The machine does not include any mechanical parts, which significantly reduces weight and cost of construction. Most of the parts of the plane are printed on a 3D printer. The core material is titanium.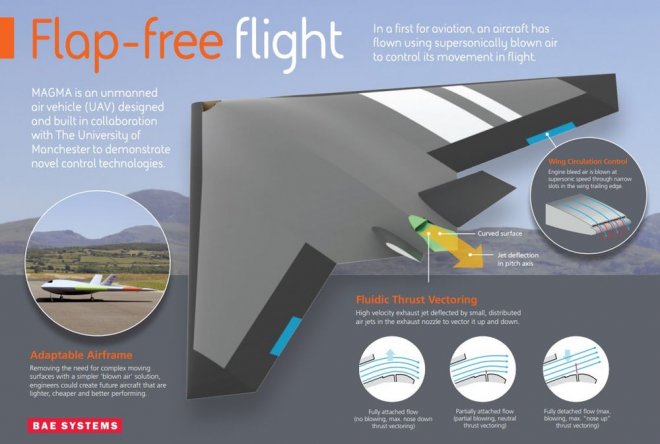 Share this with your friends!